Goodwin Named Chair of UMSON at the Universities at Shady Grove
August 31, 2022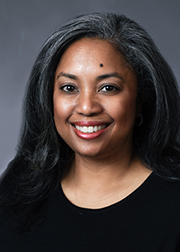 Baltimore, Md. – The University of Maryland School of Nursing (UMSON) has appointed Jana Goodwin, PhD, RN, CNE, assistant professor, chair of the UMSON program at the Universities at Shady Grove (USG) in Rockville, Maryland. USG is one of UMSON's two locations.
As chair, Goodwin is responsible for the oversight and growth of the Bachelor of Science in Nursing program and Doctor of Nursing Practice Family Nurse Practitioner specialty, the two programs UMSON offers at USG, and will lead the UMSON faculty and staff at that location in achieving academic, scholarship, service, and practice strategic initiatives.
Goodwin, who served as director of the entry Bachelor of Science in Nursing program for five years until she was appointed to the chair position on June 1, 2022, has been intensively engaged in growing that program. Since 2017, combined student enrollment at USG and in Baltimore has increased by 6.8% to more than 700 students. She collaborated with faculty and academic and programmatic leadership to manage curriculum development, student progression, program evaluation and quality improvement, policy development, and faculty mentorship. As an outgrowth of enrollment increase at USG, the School of Nursing is engaged in renovating a building dedicated solely to UMSON at USG, with an expected completion of spring 2023. The renovation of this space will allow for significant expansion of the simulation labs, create a student success suite, and provide an administrative suite.
In January 2022, Goodwin also took on the role of interim associate dean for student and academic services, serving until the position was filled in May.
Goodwin joined the University of Maryland School of Nursing in 2001 as a clinical instructor at USG, and in 2015, upon completion of her doctoral degree, she was appointed assistant professor. She brings to her new role a deep commitment to teaching and learning and great familiarity with the students, faculty, and programs at USG; her responsibilities have included clinical and didactic teaching and advising of students, as well as course development, implementation and evaluation, and curriculum revision.
"For more than 20 years, UMSON at USG has educated the baccalaureate- and, more recently, doctorally prepared nursing workforce in Montgomery County and the western parts of the state," Goodwin said. "Our culturally and linguistically diverse student body is representative of the community, which is vital, given that an educated and diverse nursing workforce improves patient outcomes. Our growth and expansion will afford us new opportunities to innovate in our teaching mission to build a prepared workforce and to collaborate with other USG programs and our community partners to improve health outcomes through research and interprofessional initiatives."
Goodwin has published with colleagues on teaching interprofessional practice skills to nursing, social work, and pharmacy students in primary health care centers. In addition, she has published and presented on topics including improving nursing student competence and confidence; the lived experience of non-English-speaking patients; cultural awareness; and bias, culture, and the social determinants of health. She is a graduate of the Johns Hopkins University Nurse Leadership Academy and was selected as a fellow in the American Association of Colleges of Nursing's national Leadership in Academic Nursing Program. Most recently, Goodwin co-chaired the Maryland Organization of Nurse Leaders Inc./Maryland Nurse Residency Collaborative Transition to Nurse Residency Program Taskforce; the group's work resulted in the development of a curriculum toolkit to assist in addressing the learning gaps in readiness to practice born out of the impact of COVID-19 experienced by new nursing graduates.
"Dr. Goodwin is exceptionally well prepared for her new responsibilities," said Jane Kirschling, PhD, RN, FAAN, the Bill and Joanne Conway Dean of the University of Maryland School of Nursing. "As a faculty member for more than two decades, she brings a deep commitment to teaching and learning and great familiarity with the students, faculty, and programs at USG. As the immediate past director of the School of Nursing's BSN program, she demonstrated her capacity for leadership and management while overseeing more than 660 entry-level students in the upper-division baccalaureate program at the Universities at Shady Grove and in Baltimore."
Goodwin earned her PhD in Nursing Education from Villanova University in Pennsylvania and her Master of Science in Nursing and Bachelor of Science in Nursing degrees from Temple University in Philadelphia.
She succeeds Rebecca Wiseman, PhD, RN, who has served as the leader of the UMSON program at USG since 2009; Dr. Wiseman stepped down from her role as chair to return to teaching and her role as inaugural director of the Maryland Nursing Workforce Center, housed at UMSON.
# # #
The University of Maryland School of Nursing, founded in 1889, is one of the oldest and largest nursing schools in the nation and is ranked among the top nursing schools nationwide. Enrolling more than 2,100 students in its baccalaureate, master's, and doctoral programs, the School develops leaders who shape the profession of nursing and impact the health care environment.