Bode Named Recipient of American Association of Nurse Practitioners 2023 Advocate State Award for Excellence
April 12, 2023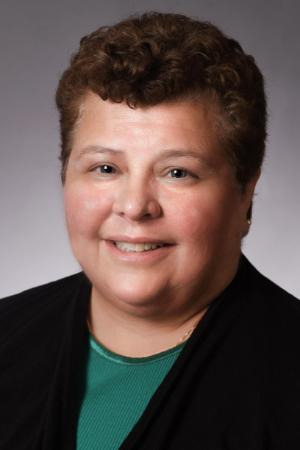 Baltimore, Md. – Claire Bode, DNP, CRNP, assistant professor, University of Maryland School of Nursing (UMSON), has been named the Maryland recipient of the 2023 American Association of Nurse Practitioners (AANP) Advocate State Award for Excellence.
Established in 1991, the State Awards for Excellence annually recognize outstanding achievements by a nurse practitioner (NP) and an NP advocate from each state; Bode is the NP advocate recipient for Maryland, recognizing her efforts to advance the NP role. This year's awardees will be honored during the AANP National Conference in New Orleans in June.
A member of the Nurse Practitioner Association of Maryland (NPAM) since 2014, Bode was elected chair of the NPAM Legislative Committee in 2020. As chair, she works with the committee to prioritize and facilitate legislative initiatives the organization wants to bring to the Maryland Legislature. Her NPAM work has included testifying to support and oppose bills on behalf of NPAM and working to promote and support NPs across Maryland.
She has participated in Maryland Department of Health workgroups for prescribing regulations related to naturopaths, contraception, and EpiPens for summer camps. The summer camp legislation passed successfully and was signed into law by then-Maryland Gov. Hogan in 2022.
Bode is a nurse practitioner with more than 30 years of experience in maternal child nursing, primarily in labor and delivery. In addition to her role as assistant professor, she works in a primary care practice for adults, where her scope of practice includes diagnoses, treatments, and referrals.
"I am honored by this recognition from AANP," Bode said. "I have a passion for advocacy, especially at the state level, and enjoy working with state legislators to assure nurse practitioners can practice to their full scope and training to improve health care for Maryland residents."
Bode joined UMSON in 2007 as part-time adjunct faculty and has been a full-time assistant professor since 2016, teaching core courses in the Doctor of Nursing Practice (DNP) Family Nurse Practitioner (FNP) specialty at UMSON's Universities at Shady Grove location in Rockville, Maryland. Bode collaborates with faculty at the Baltimore location to ensure course content is consistent across locations.
At UMSON, Bode has served as past chair of the Entry-Level Curriculum Committee; on the Faculty Council in the role of committee chair; on the Bachelor of Nursing (BSN) Judicial Board; on the Student Affairs Committee; and on the BSN, Clinical Nurse Leader, and FNP admissions committees. She is currently a member of the Faculty Council's DNP Curriculum Committee.
Bode earned her Doctor of Nursing Practice and Master of Science in Nursing degrees from UMSON and her Bachelor of Science in Nursing from the Catholic University of America. Along with membership in AANP and NPAM, she is a member of the American Nurses Association, the National Organization of Nurse Practitioner Faculty, and UMSON's at-large chapter of Sigma, the international nursing honor society.
AANP is the largest professional membership organization for NPs of all specialties. It provides legislative leadership at the local, state, and national levels; promotes excellence in practice, education, and research; and establishes standards that best serve NPs' patients and other health care consumers.
# # #
The University of Maryland School of Nursing, founded in 1889, is one of the oldest and largest nursing schools in the nation and is ranked among the top nursing schools nationwide. Enrolling nearly 2,100 students in its baccalaureate, master's, and doctoral programs, the School develops leaders who shape the profession of nursing and impact the health care environment.