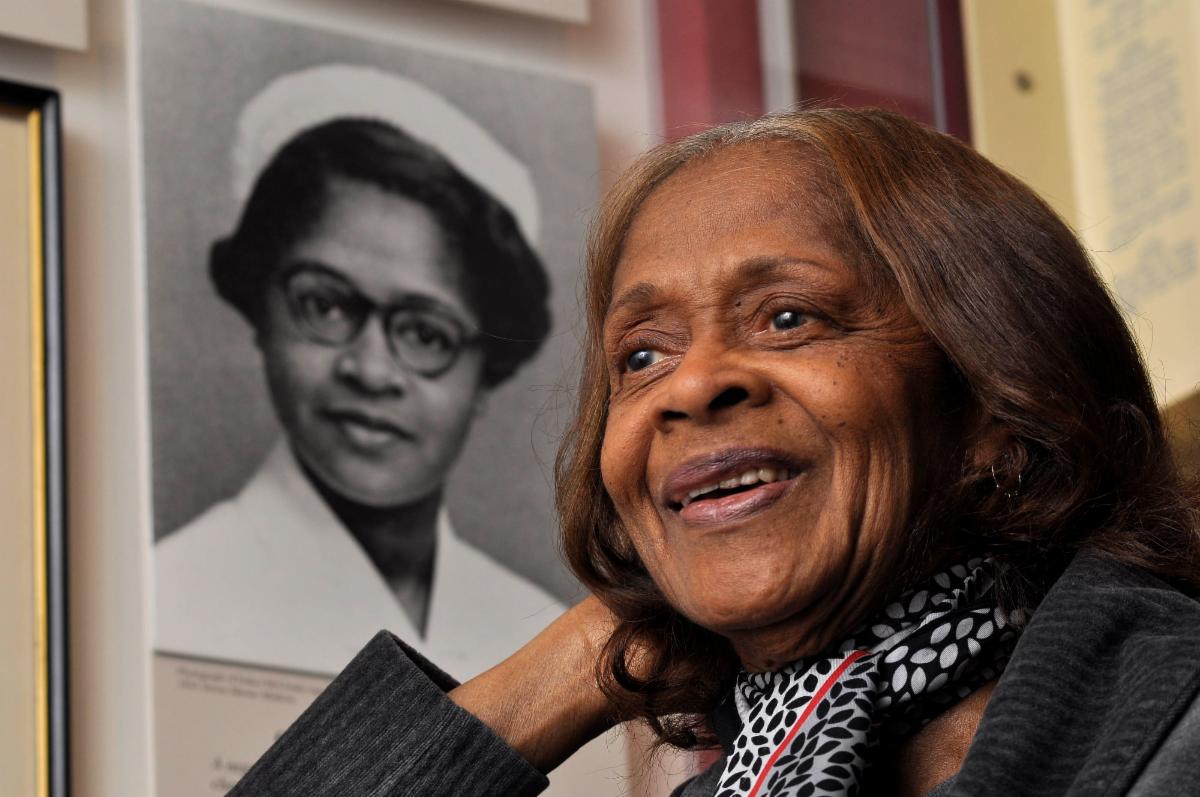 Baltimore Sun photo by Karl Merton Ferron
Yolanda Ogbolu, PhD, CRNP-Neonatal, FNAP, FAAN, associate professor and chair, Department of Partnerships, Professional Education, and Practice
Ms. Esther McCready was a civil rights activist for nursing. She pressed through tremendous obstacles to overcome racial injustice as she fought to become the first Black registered nurse to graduate from the University of School of Nursing. I had the honor of serving with her on a panel over a decade ago. I must admit I was mesmerized to be sitting with a great leader of her time. Ms. McCready was a quiet fighter who was eager to share her stories with people, like me, who had followed in her footsteps. I was equally eager to sit at her feet and listen. Through her stories, I learned that she was relentless in her efforts for racial equity, working with the likes of Thurgood Marshall and his team. I often asked her how she managed to be so persistent and resilient; she suggested I read Psalm 91, which she reported she said quietly to herself at all times. "Whoever dwells in the shelter of the most high will rest in the shadow of the Almighty. I will say to the Lord, he is my refuge and my fortress, my God, in whom I trust. Surely he will save you from the fowler's snare and from deadly pestilence. He will cover you with his feathers, and under his wings you will find refuge."
Ms. McCready was not only a trailblazer for Black nurses, but she was also an icon within her Baltimore community. During my visits with her, members of the community and health professionals would smile, come up to her, and want to hear a word from her. Her fight for social and racial justice transcended her work at the University of Maryland School of Nursing and had a ripple effect on everyone in Baltimore that she touched. Over the decade that I knew her, we continued to develop a friendship, and she became one of my senior advisors.
Ms. McCready was always checking to see how I was doing at the University. Late last year, I was sitting at home and heard her soft, beautiful voice coming across my answering machine. We spoke for an hour, she shared her stories again, and she advised me to stay encouraged and quietly move forward even during these difficult times of racial injustice. The next week, I visited her in the nursing home; she was curled up in her bed with her fist tightly and permanently balled. I asked her how she had managed to dial my number; she told me she had pressed each number one by one. We looked at each other and smiled; I understood the depth to which she was willing to press forward to encourage others and her desire to pass her legacy to the next generation. She gave it all and pushed forward the next generation of Black nurse leaders. I was simply blessed to be in her presence.
---
Hershaw Davis Jr., MS, RN, clinical instructor
I can because she did. For that, I am forever grateful. There is no way I could ever repay her except to continue to push forward in excellence and equality. Her sacrifice will not be in vain as we continue the work to ensure equality for all under the law.
---
Joval Webbe, Clinical Nurse Leader master's student

As a Black woman and first semester CNL student, Ms. McCready was so that now, decades later, I can, I am, and I will.
---
To honor the life and legacy Esther E. McCready, DPS (Hon.), DIN '53, we encourage you to submit a written tribute by email to nrscommunications@umaryland.edu.