Luana Colloca, MD, PhD, MS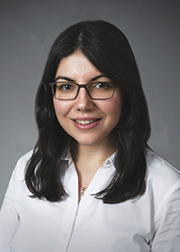 Professor

Pain and Translational Symptom Science

Director, Placebo Beyond Opinions Center

Pain and Translational Symptom Science
MPower Professor
University of Maryland, Baltimore
Adjunct Professor
Department of Anesthesiology (School of Medicine)
Location:

Room 733, School of Nursing Building

Phone:

410-706-8244
Email:
Education
MD, Neurophysiology, University Magna Graecia of Catanzaro School of Medicine
PhD, University of Turin Medical School
MS, Master in Bioethics, University of Turin
Contracts, Fellowships, Grants, and Sponsored Research
Title:

Chronic orofacial pain: genetics, cognitive-emotional factors, and endogenous modulatory systems

Sponsoring Organization:

NIH/NIDCR

Role:

Principal

Title:

R13AA028424 - 3rd International conference of The Society for Interdisciplinary Placebo StudiesSIPS - Harnessing placebo mechanisms for optimal pain management and treatment of alcohol and other drug use disorders

Sponsoring Organization:

NATIONAL INSTITUTE ON ALCOHOL ABUSE AND ALCOHOLISM (NIAAA)

Role:

Co-Principal

Title:

R01AT010333-Neural correlates of hypoalgesia driven by observation

Sponsoring Organization:

National Center for Complementary & Integrative Health (NCCIH) of the National Institutes of Health (NIH)

Role:

Principal

Title:

R01AT011347 - Neural Mechanisms of Immersive Virtual Reality in Chronic Pain

Sponsoring Organization:

NIH

Role:

Principal

Date:

2022 - 2024

Title:

Award

Sponsoring Organization:

MPower the State

Role:
Research Interests
Dr. Luana Colloca has conducted pioneering ground-breaking studies that have advanced scientific understanding of the psychoneurobiological bases of endogenous systems for pain modulation in humans. As a result, Dr. Colloca has developed an international reputation as a leading scientist for advancing knowledge of the neurobiological mechanisms of placebo and nocebo effects with an multifaced approach including psychopharmacological, neurobiological and behavioral approaches. Her research has been published in top-ranked international journals including Biological Psychiatry, Pain, JAMA, NEJM and Lancet Neurology. The impact of her innovative work is clear from her impressive citation rate and more than 230 invited lectures. Her research has been also featured on The National Geographic, The New Scientist, Washington Post, Science daily, Boston Globe, The New Yorker Time, Nature, The Guardian, The Wall Street Journal, News and World Reports, COSMOS (Australia), The Australian, and USA Today. Dr. Colloca has been honored with prestigious awards such as the the Dubner Award and Patrick Wall International Award from the International Association for Study of Pain (IASP). She serves on leadership roles internationally within the IASP (Chair of the PAIN and PLACEBO SIG) and the Society for Interdisciplinary Placebo Studies (SIPS, Treasurer) and locally as the CTSA TL1 Program Director at the University of Maryland. She is also a Section Editor for PAIN and PAIN Reports journals.
Publications
Presentations
Year:

2018

Title:

Are placebos the solution? Tackling the opioid epidemic in the next few decades - https://www.youtube.com/watch?v=XPtKdtF05s8

Conference/Meeting Name:

TEDx talk University of Maryland

Sponsoring Organization:

University of Maryland School of Medicine and School of Nursing

Location:

Baltimore United States

Year:

2020

Title:

Interview with Sheilah Kast for WYPR Radio - https://www.wypr.org/post/your-brain-pain
Areas of Specialization
Acute experimental pain; Brain mapping; Clinical and experimental; Chronic pain; Phenotypes of placebo responders; Placebo effects; Nocebo effects; Pain modulation mechanisms; Temporomandibular Disorders; Virtual Reality mechanisms.
Primary Teaching Areas
Pain mechanisms and Pain management.
Honors/Awards
Name:

Patrick Wall International Award

Sponsoring organization:

International Association for Study of Pain

Date:

September 2016

Name:

Stephen Milan Award

Sponsoring organization:

Temporomandibular Joint Ankylosis (TMJA)

Date:

September 2016

Name:

Award for Neuroscientist

Sponsoring organization:

PsychoNeuroImmunology Research Society (PNIRS)

Date:

2006

Name:

Award for Young Neuroscientist

Sponsoring organization:

American Psychosomatic Society (APS)

Date:

June 2006

Name:

Dubner International Research Prize

Sponsoring organization:

International Association for Study of Pain (IASP)

Date:

May 2008

Name:

Young Scientist Award

Sponsoring organization:

European Federation of IASP Chapter (EFIC)

Date:

2009

Name:

Clinical Center High Performance Award

Sponsoring organization:

NIH

Date:

2010

Name:

Gold medal for research

Sponsoring organization:

Italian Sport Federation (FCI)

Date:

December 2010

Name:

Toekenningsbrief

Sponsoring organization:

Koninklijke Nederlandse Akademie Van Wetenschappen (KNAW)

Date:

2018

Name:

Distinguished Scholarship Award

Sponsoring organization:

University of Maryland School of Nursing

Date:

2017
Academic and Professional Activities
University
Organization:

CTSA TL1 Pre- and Postdoctoral Training Program

Role:

Director

Date:

2015 - Current

Organization:

GIPLS - PhD program

Role:

Examiner as a Faculty

Date:

2017 - Current

Organization:

PhD Curriculum Committee

Role:

Board Member

Date:

2017 - Current

Organization:

Institutional Review Board - University of Maryland

Role:

Voting IRB Member

Date:

2018 - 2018

Organization:

Committee for faculty position

Role:

Chair Search Committee
Professional
Organization:

Special Interest Groups - IASP

Role:

President

Date:

2016 - Current

Organization:

PAIN

Role:

Associate Editor

Date:

2014 - Current

Organization:

Society for Interdisciplinary Placebo Studies (SIPS)

Role:

Board of Directors