Amber Kleckner, PhD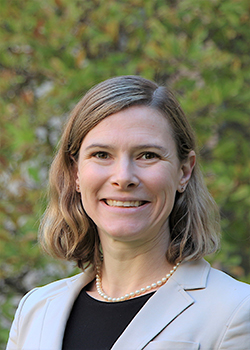 Assistant Professor

Pain and Translational Symptom Science
Pronouns:
she/her/hers
Location:

Room 735, School of Nursing Building

Phone:

410-706-5961
Email:
Education
BS, Biochemistry, The Ohio State University, 2007
MS, Biochemistry, The Ohio State University, 2008
PhD, Human Nutrition, The Ohio State University, 2012
MS, Epidemiology, University of Rochester, 2021
Research Interests
I am a nutrition scientist who is working to solve pressing problems in supportive care in cancer. Patients with cancer experience debilitating symptoms of the cancer and side effects of treatment that can, unfortunately, persist long into survivorship. For example, cancer-related fatigue can be so severe that it prevents people from returning their work and hobbies. I design and test nutritional programs that modulate the quantity, quality, and timing of food to understand how nutrition can help treat these symptoms. I also study the metabolic and mitochondrial mechanisms underlying cancer-related fatigue to help understand its mechanistic underpinnings and tailor nutritional programs accordingly.
Publications
Using geriatric assessment to guide conversations regarding comorbidities among older patients with advanced cancer. JCO Oncology Practice, 18 (1), e9-e19. doi:10.1200/OP.21.00196
The importance of continued epidemiological research on sugar-sweetened and artificially sweetened beverages. The Journal of Nutrition, 151 (9), 2511-2512.
Physical activity patterns and relationships with cognitive function in patients with breast cancer before, during, and after chemotherapy in a prospective, nationwide study. Journal of Clinical Oncology, 39 (29), 3283-3292. doi:10.1200/JCO.20.03514
Longitudinal study of inflammatory, behavioral, clinical and psychosocial risk factors for chemotherapy-induced peripheral neuropathy. Breast Cancer Research and Treatment. doi:10.1007/s10549-021-06304-6
Gilmore, N. J.. Evaluating the association of frailty with communication about aging-related concerns between older patients with advanced cancer and their oncologists. JNCI. doi:http://doi.org/10.1002/cncr.34010
Cancer-related fatigue, anxiety, and quality of life in breast cancer patients compared to non-cancer controls: a longitudinal analysis. Breast Cancer Research and Treatment, 187 (1), 275-285. doi:10.1007/s10549-020-06067-6
Improving communication with older patients with cancer using Geriatric Assessment: A cluster randomized clinical trial from the NCI Community Oncology Research Program. JAMA Oncology, 6 (2), 196-204. doi:10.1001/jamaoncol.2019.4728
Pharmaceutical, psychological, and exercise interventions for cancer-related fatigue: a comparative meta-analysis. JAMA Oncol., 3 (7), 961-968. doi:doi:10.1001/jamaoncol.2016.6914