Interprofessional Forum on Ethics and Religion in Health Care
Presented by:
Living Legacy Foundation
University of Maryland Graduate School
University of Maryland School of Medicine
University of Maryland Nursing
University of Maryland Pharmacy
University of Maryland Social Work
Maryland Healthcare Ethics Committee Network at Maryland Carey Law
Sixth Annual Interprofessional Forum on Ethics and Religion in Health Care
What the Golden Rule Really Means in Serving the LGBTQ+ Community
Thursday, Nov. 7, 2019
University of Maryland, Baltimore
Westminster Hall
519 W Fayette St.
Baltimore, MD 21201
Gender identity, sexual orientation, and spirituality each play a part in forming our sense of self, our core values, and how we define community. Historically, health care systems and organized religions have not made efforts to identify the special needs of LGBTQ+ individuals and accommodate them, whether due to ignorance or bias. In this unique forum, we explore what the Golden Rule mandates in meeting ethical duties to promote well-being and "do no harm" for LGBTQ+ individuals seeking health care services. We welcome health care providers, ethics committee members, members of faith communities, and anyone interested in serving as an ally for the LGBTQ+ community as we explore ethical issues related to access and inclusion in health care delivery.
At the end of this conference, learners will be able to:
Identify health care access and delivery disparities experience by LGBTQ+ individuals
Discuss ethical issues that arise in caring for LGBTQ+ individuals
Discuss the characteristics and advantages of interprofessional collaboration in providing care in the LGBTQ+ community
Explore how acceptance or rejection of an individual's LGBTQ+ identity plays out in spiritual and religious practice and implications involved
We invite individuals from all disciplines to submit abstracts describing research or quality improvement projects and initiatives that address the topics and themes of this conference. We especially are interested to receive abstracts from interprofessional working groups. Please review the guidelines and corresponding timeline below. If you have any questions, please reach out to pe.nursing@umaryland.edu for assistance.
Open Date: July 15, 2019
Close Date: Sept. 23, 2019
Information and Guidelines
All abstracts should be submitted using the online submission process. Be sure to review the abstract submission guidelines before you begin. If you have questions during this process, contact Sonia Smith at pe.nursing@umaryland.edu or 410-706-3767.
Abstract Submission Guidelines
Prepare your abstract as a separate Word document and have all information ready before starting the submission process.
In the case of multiple authors, we recommend only the primary presenter (person who will present) submit the abstract and required information.
The primary presenter must provide the required information for all co-authors at the time of submission, whether the co-authors plan to attend or not. Abstracts that name co-authors but fail to include the required information will be considered incomplete and will not be reviewed.
Provide the title of your abstract as you want it to appear in the program.
Copy and paste the text from your abstract into the box provided in the online form. The form will accept no more than 500 words. Longer abstracts will be truncated at 500 words.
Incomplete forms, alternative format submissions, emailed submissions, or faxed submissions will not be considered for review.
Notification
The primary presenter will receive email notification of the review committee's decision after October 1. The primary presenter is expected to relay this information to all co-authors.
Presenter Commitment and Registration
Your e-mail commitment to present must be received on or before October 8, in addition to completing the online registration form for the primary presenter. Failure to contact us and register by this deadline will constitute a decline to present.
Guidelines for Poster Presentations
Poster presenters can set up their posters November 7 beginning at 8:30 am, using the stands provided.
You will be assigned a numbered stand.
The poster corkboard dimensions are 33 inches long and 46 inches wide.
Posters should be printed on paper or other material that can be attached to the corkboard by pushpins, which will be provided.
The poster session will take place on November 7. Presenters should be stationed at their posters throughout the poster session time block, then plan to remove the poster immediately following the closing remarks.
Attendees will vote for a People's Choice Award. The winner will be announced at the closing session. The winner of the People's Choice Award will receive a complimentary registration for 2020.
Time
Details
8:30-9 a.m.
Registration/Continental Breakfast
9-9:05 a.m.

Program Details and Providing a Safe Space

Gregory Brightbill (He, Him, His)
Interprofessional Student Learning and Service Initiative
University of Maryland, Baltimore

9:05-9:15 a.m.

Welcome and Opening Remarks

Jay A. Perman, MD
President
University of Maryland, Baltimore

9:15-10 a.m.

The Intersection of Sexuality, Gender and Spirituality

Darren Freeman-Coppadge, PhD, PharmD, BCPP (He/Him/His)
Staff Psychologist
University of Maryland

10-10:45 a.m.

Meeting Health Needs of the Transgender Community

Ezra Halstead, MA (He, They)
Case Manager, Human rights Advocate and Policy Analyst
FreeState Justice

10:45-11:15 a.m.

Open Mic

Moderator:

Anita J. Tarzian, PhD, RN
Associate Professor
University of Maryland, Baltimore

11:15-11:30 a.m.
Break
11:30 a.m.-12:30 p.m.

Interprofessional Panel

Moderator:

Patricia Franklin, PhD, RN
(She, Her, Hers)
Assistant Professor
Director, Office of Professional Education
Director, Nurse Leadership Institute
University of Maryland School of Nursing

Panelists:

Whitney Burton, MSW, MPH, CPH
High Hopes, LLC Quality Assurance Manager
STAR TRACK, UMB Program Manager
Northern Star Consulting, LLC Director

Deborah Dunn, PA
Physician Assistant/TransHealth Coordinator
Chase Brexton Health System

Ezra Halstead

Charles Xavier Kilborn

Elyse Pine, MD
Staff Physician, Gender JOY Lead Physician
Chase Brexton Health Care

12:30-1:30 p.m.
Lunch and Poster Sessions
1:30-2:15 p.m.

Intersections of Faith and Health Care for LGBTQ+ Individuals and Communities

Moderator:

Ahleah Gavin, PhD
Research Project Coordinator
University of Maryland School of Nursing

Panelists:

Rabbi Ariana Katz
Hinenu: The Baltimore Justice Shtiebl



Bishop Douglas L. Miles
Koinonia Baptist Church

Reverend Joseph L. Muth Jr.

2:15-2:45 p.m.
Open Mic
2:45-3:30 p.m.

Intersections of Ethics and Healthcare for LGBTQ+ individuals

Darren J. Freeman-Coppadge

Anita J. Tarzian

3:30 p.m.
Closing Thoughts and Adjournment
Nurses: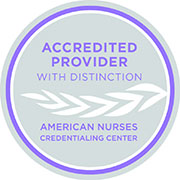 Nurses may receive 6 contact hours upon successful completion of this educational activity. Successful completion of this activity for Continuing Education (CE) requires attending the entire activity, completion of the online CE evaluation, and verification of attendance form. Partial credit is not provided. Participants receive a CE certificate via email from the University of Maryland School of Nursing approximately 2-4 weeks after submitting their request and required documentation. All requests must be received within 30 days of the conference.
The University of Maryland School of Nursing is accredited as a provider of continuing nursing education by the American Nurses Credentialing Center's Commission on Accreditation.
Pharmacists

The University of Maryland School of Pharmacy is accredited by the Accreditation Council for Pharmacy Education as a provider of continuing pharmacy education. This knowledge-based activity (UAN: 0025-0000-19-098-L04-P) is approved for 6.0 hours (0.6 CEU) of continuing education credit. Statements of credit will be posted to CPE Monitor within three weeks for all participants who successfully complete the activity.
Successful completion of this activity requires your signature on the sign-in sheet,
participation in the entire activity, and completion of an online activity evaluation.


Physicians: CME Accreditation
This activity has been planned and implemented in accordance with the accreditation requirements and policies of the Accreditation Council for Continuing Medical Education (ACCME) through the joint providership of the University of Maryland School of Medicine and the Institute for Jewish Continuity. The University of Maryland School of Medicine is accredited by the ACCME to provide continuing medical education for physicians.
Credit Designation: The University of Maryland School of Medicine designates this Live activity for a maximum of 6.0 AMA PRA Category 1 Credits™. Physicians should claim only the credit commensurate with the extent of their participation in the activity.
Social Work:
The University of Maryland School of Social Work Office of Continuing Professional Education is authorized by the Board of Social Work Examiners in Maryland to sponsor social work continuing education programs and maintains full responsibility for this program. This training qualifies for 5.25 Category I continuing education units. Successful completion of this activity requires your signature on the sign-in sheet, participation in the entire activity, and completion of an evaluation form to be handed in at the end of the activity. This conference does not meet the Maryland Board of Social Work's ethics requirement.
Continuing Education (CE) Opportunities
UMSON offers year-round opportunities for continuing education, which is now recognized for license renewal in Maryland. Take advantage of online, simulation, and in-person activities to enhance your professional development.