Nicole "Jennifer" J. Klinedinst, PhD, MPH, RN, FAHA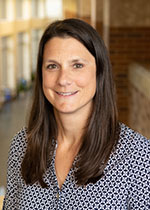 Associate Professor

Organizational Systems and Adult Health

Co-Director, Biology and Behavior Across the Lifespan Organized Research Center

Organizational Systems and Adult Health
Pronouns:
She/Her/Hers
Location:

Room 325B, School of Nursing Building

Phone:

410-706-3181
Email:
I am currently accepting new PhD students.
Education
BSN, Nursing, Indiana University of Pennsylvania, 1997
MPH, Public Health, Boston University, 2000
MSN, Community Systems Administration, Thomas Jefferson University, 2003
PhD, Nursing, Emory University, 2008
Contracts, Fellowships, Grants, and Sponsored Research
Date:

2017 - 2019

Title:

Bioenergetics and Inflammation as Mechanisms for Post-stroke Fatigue: A novel pathway to improve function

Sponsoring Organization:

University of Maryland Claude D. Pepper Older Americans Independence Center

Role:

Principal

Date:

2016 - 2019

Title:

Bioenergetic and proteomic profiles of resilience to osteoarthritis pain and physical activity among older adults

Sponsoring Organization:

Omics Associated with Self-Management Interventions for Symptoms (OASIS) Center (1 P30 NR016579-01)

Role:

Principal

Date:

2019 - 2023

Title:

Genomics -, Microbiomics -, and Bioenergetics -Based Personalized Treatment for Trauma Patients at Risk for Sepsis

Sponsoring Organization:

Department of Defense

Role:

Co-Principal
Research Interests
I am interested in biologic mechanisms for symptoms and outcomes of chronic disease. I also engage in research on interventions to decrease adverse symptoms associated with chronic disease among older adults.
Research Activity
Duration:

2017 - 2021

Title:

Bioenergetics and inflammation as mechanisms for post-stroke fatigue: A novel pathway to improve function

Status:

Complete

Duration:

2017 - Current

Title:

Bioenergetics, inflammation, and protein expression as mechanisms for variation in pain sensitivity after physical activity in adults with lower extremity osteoarthritis

Status:

Complete

Duration:

2019 - 2023

Title:

Genomics -, Microbiomics -, and Bioenergetics -Based Personalized Treatment for Trauma Patients at Risk for Sepsis

Status:

On-Going
Publications
Klinedinst, N. J., Schuh, R., Kittner, S., Regenold, W., Kehs, G., Hoch, C., et al (2019, January (1st Quarter/Winter)). Post-stroke fatigue as an indicator of underlying bioenergetics alterations. Journal of Bioenergetics and Biomembranes, 51 (2), 165-174.
Resnick, B. M., Yerges-Armstrong, L., Orwig, D., Hochberg, M., Klinedinst, N. J., Gruber-Baldini, A., et al. Genotype, Resilience and Function and Physical Activity Post Hip Fracture. International Journal of Orthopaedic and Trauma Nursing.
Hackney, A., Klinedinst, N. J., Resnick, B. M., Renn, C. L., Fiskum, G. & (2019, May 1). A review and synthesis of correlates of fatigue in osteoarthritis. International Journal of Orthopaedic and Trauma Nursing.
Hackney, A., Klinedinst, N. J., Resnick, B. M. & Johantgen, M. E. (2019, June 25). Association of Systemic Inflammation and Fatigue in Osteoarthritis: 2007-2010 National Health and Nutrition Examination Survey. Biological Research for Nursing.
Klinedinst, N. J. & Hackney, A. (2018, October (4th Quarter/Autumn)). Physiological resilience and the impact on health.. Resilience in Aging: Concepts, Research, and Outcomes. 2nd Edition, (2nd).
Klinedinst, N. J. & Resnick, B. M. (2016, May 1). The Volunteering-in-Place (VIP) Program: Providing meaningful volunteer activity to residents in assisted living with mild cognitive impairment.. Geriatric nursing (New York, N.Y.), 37 (3), 221-7. doi:10.1016/j.gerinurse.2016.02.012
Resnick, B. M., Klinedinst, N. J., Yerges-Armstrong, L., Magaziner, J., Orwig, D., Hochberg, M. C., et al (2016, June 1). Pain, Genes, and Function in the Post-Hip Fracture Period.. Pain management nursing : official journal of the American Society of Pain Management Nurses, 17 (3), 181-96. doi:10.1016/j.pmn.2016.03.003
Klinedinst, N. J., Resnick, B. M., Yerges-Armstrong, L. M. & Dorsey, S. G. (2015, June 1). The Interplay of Genetics, Behavior, and Pain with Depressive Symptoms in the Elderly.. The Gerontologist, 55 Suppl 1, S67-77. doi:10.1093/geront/gnv015
Klinedinst, N. J. (2017, May 25). Frustrated by Fatigue: Stroke Survivors Deserve Action Now!. American Heart Association. http://professional.heart.org/professional/ScienceNews/UCM_492782_Frustrated-by-Fatigue-Stroke-Survivors-Deserve-Action-Now.jsp
Klinedinst, N. J. & Regenold, W. T. (2015, April (2nd Quarter/Spring) 1). A mitochondrial bioenergetic basis of depression.. Journal of bioenergetics and biomembranes, 47 (1-2), 155-71. doi:10.1007/s10863-014-9584-6
Presentations
Year:

2019

Title:

Post-stroke fatigue as an indicator of underlying bioenergetics alterations

Conference/Meeting Name:

Stroke Nursing Symposium at International Stroke Conference

Location:

Honolulu HI United States

Year:

2019

Title:

Biologic mechanisms for variation in pain sensitivity after physical activity in adults with knee osteoarthritis

Conference/Meeting Name:

Center Direectors Meeting at National Institute of Nursing Research

Location:

Bethesda MD United States

Year:

2018

Title:

Post-Stroke Fatigue as an Indicator of Cellular Energy Crisis.

Conference/Meeting Name:

International Stroke Conference

Sponsoring Organization:

American Heart Association

Location:

Los Angeles CA United States

Year:

2018

Title:

Post-stroke Fatigue and depression: A guide for clinicians

Sponsoring Organization:

Greater Baltimore Medical Center

Location:

Baltimore MD United States

Year:

2017

Title:

The Volunteering-in-Place Program: Meaningful Volunteer Activity for Assisted Living Residents

Conference/Meeting Name:

International Association of Gerontology and Geriatrics World Congress

Sponsoring Organization:

International Association of Gerontology and Geriatrics World Congress

Location:

San Francisco CA United States

Year:

2016

Title:

The Volunteering-in-Place (VIP) Program: Providing Meaningful Volunteer Activity to Residents in Assisted Living with Mild Cognitive Impairment

Conference/Meeting Name:

Gerontological Advanced Nurses Association Annual Conference

Location:

Phoenix AZ United States

Year:

2016

Title:

How to Write an Award Winning Abstract

Conference/Meeting Name:

Gerontological Advanced Nurses Association Annual Conference

Location:

Phoenix AZ United States
Honors/Awards
Name:

Fellowship

Sponsoring organization:

American Heart Association

Date:

November 2015
Academic and Professional Activities
University
Date:

2016 - 2019

Organization:

PhD Curriculum Committee

Role:

Member

Date:

2016 - Current

Organization:

Mentorship Program

Role:

Faculty Mentor

Date:

2016 - 2018

Organization:

Faculty Governance Council

Role:

Member

Date:

2015 - Current

Organization:

Sigma Theta Tau, Pi Chapter Research & Scholarship Awards Committee

Role:

Member
Professional
Date:

2015 - 2019

Organization:

Cardiovascular and Stroke Nursing (CVSN) Council, Science and Clinical Education Lifelong Learning (SCILL) Committee

Role:

Committee Member

Date:

2011 - 2021

Organization:

Stroke Committee for Council on Cardiovascular and Stroke Nursing, American Heart Association

Role:

Committee Member

Date:

2012 - 2017

Organization:

Gerontological Advanced Practice Nurses Association: Research committee,

Role:

Committee Member

Organization:

Retirement Research Foundation

Role:

Grant Reviewer/Referee
Public
Date:

2011 - 2020

Organization:

PRAISEDD exercise class at Mt. Claire Apartment homes for seniors in west Baltimore

Role:

Volunteer