Fee for Service: When Nursing Meant Private Duty
Private duty nursing, the core of the nursing profession until the 1940s, was demanding, strenuous work. Along with teaching, it was also considered one of the best fields for women. Most early graduates did private duty out of necessity, since hospitals and public health agencies offered very few salaried positions.
Able to schedule cases to suit their needs and interests, private duty nurses often enjoyed a measure of independence and on-the-job autonomy. The tradeoff was a lack of economic security and a sense of personal and professional isolation that came from working alone. Private duty nurses took pride in providing individual care, but often downplayed their technical and scientific abilities for clients more interested in "breeding" and social demeanor.
Nationally, private duty nursing began to decline in the 1920s and 1930s as hospitals began hiring staff nurses to accommodate their growing clientele. For some private duty nurses, the opening of the new University Hospital in 1934 brought them more work and many continued to work into the 1950s, well after the heyday of private duty nursing.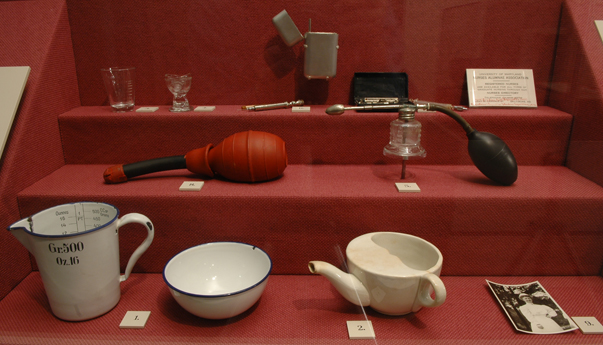 Contents of an early 20th century private duty nurse's medical bag.
Private Cases
Mary E. Cornman, DIN 1893 received her first private duty case in July 1892, some 15 months after entering nurses training. She cared for Mary Williams, a 20-year-old African-American housemaid suffering from typhoid fever.
Prof. Tiffany reported receipts on account of private nursing by the probationers and nurses of the hospital, through Miss Parsons, equaling $1,464....
Minutes of the Faculty of Physic, Maryland University, 1869-1891, July 8, 1891
What a Private Duty Nurse Needs
It is always advisable for a nurse, when she has made up her mind to do private duty, to supply herself with certain articles which she will need more or less constantly, and which she cannot expect to find in private homes. Of these the most important are a clinical thermometer, a medicine and minim glass, a hypodermic syringe, a Davidson or fountain syringe, and a pair of surgical scissors. A good supply of record sheets, temperature charts and a note-book for orders should always be kept on hand, so that the nurse's reports may be started in a systematic way from the moment that she takes charge of a new patient.
Isabel Hampton Robb, Nursing Ethics: For Hospital and Private Use, 1922