Living History Museum
You are here:
One of the only museums in the world dedicated to nursing, the Living History Museum honors the critical role of nurses and chronicles the continuing story of the profession.
‌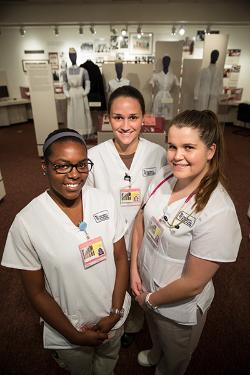 The museum features hundreds of historic items—from a 19thcentury nurses' uniform to artillery shells and geisha dolls brought back by nurses from both World Wars. The museum also features video and audio oral histories of nurses recounting stories from bygone eras. Together, the carefully curated exhibits in the museum weave an insightful tapestry of the nursing profession throughout the generations—with the University of Maryland School of Nursing serving as its common thread.
The museum is open from 10 a.m. to 2 p.m. Mondays and Tuesdays during the fall and spring academic semesters. Admission is free. To arrange a tour, contact our curator, Heather Ritterpusch, MA.