Nursing During Surgery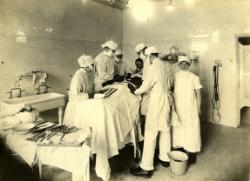 A good nurse would know the surgical procedures nearly as well as the doctor did. She was expected to anticipate what instruments the doctor would need and have them ready. Other nurses helped by holding basins to collect discharge from wounds, bandaging surgical wounds after they had been sutured, or wiping sweat from the doctor's and other nurses' foreheads.
OR in University Hospital, 1918. Nurses: (left) Gertrude Dilly, Class of 1915; (right) Eva M. Boor, Class of 1915; Alumni Association Collection.
Changes in the Nurse's Role During Surgery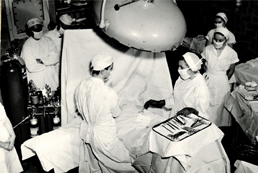 Nurses witnessed the advancements in health care first hand during the 20th century. When disposable surgical equipment became more prevalent in the 1960s, nurses stopped spending large amounts of time washing and preparing surgical cloths and instruments. In addition, support staff and not nurses began sterilizing items. Much more emphasis had been placed on interacting with patients prior to surgery to confirm the specifics of the operation, manage the patient's diet, and ensure hospitals were protected by having patients sign legal documents in case issues arise from surgery.
Surgical team at University Hospital, circa 1950, Alumni Association Collection.
Surgical Theory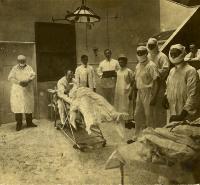 Surgical theory after 1890 stressed antiseptic techniques such as wearing sterile cotton scrubs and rubber gloves when touching the patient. Notice the doctor delivering the ether anesthesia to the patient in a cone covered with a towel. The nurse is wearing the standard nursing scrubs common at University Hospital during this period.
Amphitheater OR of University Hospital, 1890s, Alumni Association Collection.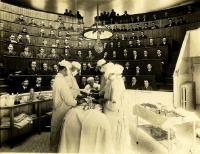 ‌A view of the University Hospital amphitheater surgery room, with University of Maryland medical students observing a surgery. University Hospital was principally a teaching hospital. Notice the bandages, sponges, and extra instruments. The medicine in the jars and bottles along the left side were likely mixed by nurses.
University Hospital Amphitheater OR, 1912, Alumni Association Collection.