Visit Our Content Catalog
Visit the UMSON Office of Professional Education Content Catalog to access on-demand workshop content and earn CE.
NextGen NCLEX
A Preparatory Series for Maryland Faculty
All sessions are offered virtually.
Nurses may receive 1.5 contact hours for attending each session.
---
Session 11: Conducting an Item Analysis on Next Generation NCLEX Items used in Course Examination

Presented by Desiree Hensel, PhD, RN, PCNS-BC, CNE, CHSE
Thursday, Nov. 17, 2022
11 a.m. – 12:30 p.m.
Online
Session Description

Starting April, 1, 2023, the new national council licensure exam known as, Next Generation NCLEX, will introduce new item types and polytomous scoring methods using 3 different scoring rules. As faculty start to include partial scoring methods into course exams, they will need to use methods for conducting post-examination reviews appropriate for partial scored items.
Session Learning Outcomes

After engaging in this session, the participant will understand how to conduct a post-examination item analysis for exams that include partial scoring methods.
Session Preparation

Prior to participating in this session, participants should review the following readings:
Hensel, D., & Cifrino, S. (2022). Item analysis and next-generation NCLEX. Nurse Educator, 47(5), 308-310.
Hensel, D. (2022). Fair Testing and Incorporating Next Generation NCLEX Items Into Course Examinations. Nurse Educator, 10-1097.
National League for Nursing (2012). NLN Fair testing guidelines for nursing education. 2012.
Rodriguez, M. C., & Albano, A. D. (2017). The college instructor's guide to writing test items: Measuring Student Learning. Routledge.
NCSBN. NGN News-Summer 2021.
---
Continuing Education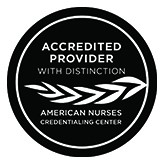 Nurses may receive 1.5 contact hours for attending this activity. Participants can access a certificate of continuing education credit following completion of assessment and evaluation within their CE21 account (see above for account creation details).
The University of Maryland School of Nursing is accredited with distinction as a provider of nursing continuing professional development by the American Nurses Credentialing Center's (ANCC) Commission on Accreditation.