Distinguished Alumni
Distinguished Alumni Award
The University of Maryland School of Nursing Distinguished Alumni Award was established to honor and recognize alumni for their dedication to excellence and exceptional professional achievements. The award is presented at the annual Alumni Reunion.
2017 Distinguished Alumni Honoree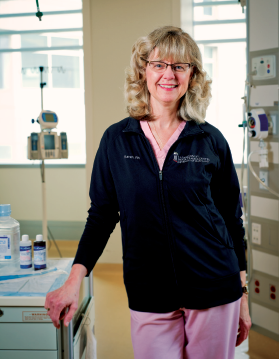 Dedicating the past three decades to critical-care nursing is an impressive accomplishment. But for Karen McQuillan, MS '86, BSN '81, RN, CNS-BC, CCRN, CNRN, FAAN, the real reward is investing in nursing's future.
"It brings me a great deal of joy to mentor future nurse leaders. By helping them develop confidence and skills, I know they will make a difference for many people going forward," explains McQuillan, who received UMSON's 2017 Distinguished Alumni Award, an annual honor in recognition of dedication to excellence and exceptional professional achievements.
McQuillan has made a positive impact on countless lives in her 30 years as a trauma clinical nurse specialist at the University of Maryland Medical Center's R Adams Cowley Shock Trauma Center, which she calls "a fascinating place to work."
Dealing with a wide range of patient conditions and potential treatments has always been intriguing, McQuillan says. "I first became enthralled with critical care nursing when I would pass the trauma center as an UMSON undergrad," she recalls. "Then, once I began working there, nurses and attending physicians would teach us all about trauma, its consequences, and treatment. I learned so much."
Since she began at Shock Trauma in the mid-1980s, McQuillan has witnessed many changes. "Improved technologies mean we can support nearly every body system now," she explains. "Injury repair is often less invasive or done in stages versus all at once so that patients recover faster."
Other changes are a result of more sophisticated multidisciplinary protocols and order sets, which allow nurses to implement interventions based on specific criteria. "Today's regulatory landscape challenges nurses to ensure preventive interventions are in place," she continues. "But the time and effort involved to document compliance can impact the time we have to be with patients and families, which is vital to the delivery of compassionate care. Family has become a more integral partner in decision-making—they can be at the bedside 24-7 and are even present during resuscitation at some facilities."
The experience she's gained during her three decades in the field has led to McQuillan's roles as a prolific author, editor, and lecturer on trauma topics; she has also held numerous leadership positions, including serving as president of the American Association of Critical-Care Nurses in 2015-16. What would she tell a nurse entering the profession today.
"Ensure you find time for activities that are rejuvenating, and work to develop resilience," she advises. "Humor is invaluable, as is seeking support from family and colleagues. You need to take care of yourself so you can continue to care well for others."
2016 Distinguished Alumni Honoree
Growing up, Elizabeth "Liz" Ness, MS '93, enjoyed playing "school" with her Suzy Smart Doll, so she thought she might have a future as an educator. However, as time went on, she fell into a career that would become her passion.
Ness, the immediate past president of the University of Maryland School of Nursing Alumni Association, recently received the Distinguished Alumni Award at the 2016 Alumni Reunion. The annual award honors an alumnus for their dedication to excellence and exceptional professional achievements. A 35-year nursing professional, Ness serves as a nurse consultant for education at the Center for Cancer Research (CCR), National Cancer Institute. She is responsible for developing and implementing orientation and professional development programs related to clinical research for CCR. But a career in nursing almost didn't happen. Ness first considered nursing as a high school student, but quickly began to have a change of heart.
"I wanted to be a nurse midwife, but that desire passed after my first semester of anatomy and physiology," Ness said. "But I didn't know what else to do, so I stuck with nursing, which has worked out."
Ness went on to earn her Bachelor of Science in Nursing degree from Boston College. Following graduation, she began working as a staff nurse at what is now Georgetown University Medical Center (GUMC) while pursuing her master's degree at the University of Maryland School of Nursing. After completing her master's degree in nursing education, Ness began weighing her options. She didn't want to leave GUMC, but a golden career opportunity fell into her lap.
"A nurse that I knew was looking for more research nurses for a new Phase I clinic. I was becoming a Phase I research nurse at the Lombardi Cancer Center at Georgetown University; not that I really knew what that meant," Ness recalls. "That was 23 years ago and I'm still involved in clinical research, which is my passion – working in some capacity as a nurse in clinical research."
Although she was initially unsure about her career path, she is thrilled about how everything has fallen into place. Ness simply learned all that she could about research nursing and incorporated it with her educational background. She encourages other nurses to consider what they can contribute to the field as well.
"There is a whole world of opportunities for nurses in clinical research. I had a blank canvas to work with and have developed an educational curriculum for research nurses," Ness said. "I challenge nurses to learn more about clinical research, as it is through clinical research that we achieve our strongest level of evidence to practice."
Ness is not only an advocate for clinical research but is also a strong supporter of the School of Nursing. She has been a generous donor since 2000 and recently endowed a scholarship, The Eva Carlson Ness Scholarship Endowment. Additionally, she has been a dedicated volunteer since 2008, participating in countless alumni events, including the Alumni Speaker Series, student-alumni speed networking, and career services workshops and seminars.
2014 Distinguished Alumni Honoree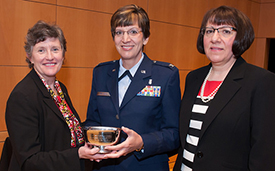 Marla De Jong, PhD, MS '96, RN, CCNS, FAAN, was a lieutenant colonel when she deployed to Iraq in 2006 to serve as program manager for the Joint Theater Trauma System. While there, she was an integral part of a team of physicians and nurses that transformed the military's trauma care system, saving a higher percentage of wounded personnel than in previous wars.
De Jong is the recipient of the 2014 University of Maryland School of Nursing Distinguished Alumni Award. An Iowa native who earned her BSN at Grand View College before signing on as an Air Force nursing intern at Offutt Air Force Base in eastern Nebraska, she attended the School of Nursing from 1994 to 1996, earning a master's degree in Trauma-Critical Care Nursing. She earned her PhD in nursing from the University of Kentucky in 2005.
2013 Distinguished Alumni Honoree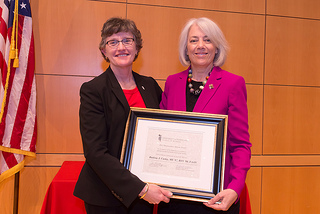 There's not much Darlene Curley, MS '82, BSN '80, has not accomplished in her career.
Over the last 30 years, she has been a nurse, a businesswoman, a politician, and an executive. Curley says her career has taken her wherever she felt like she could make a difference—something she doesn't believe would have been possible without the education and foundation she received at the School of Nursing.
Curley, who earned her BSN in 1980 and her MS in community health nursing/administration in 1982, was recognized for her accomplishments as the recipient of this year's Distinguished Alumni Award.
"I've been very fortunate in my career, and it starts with attending the University of Maryland, which shares a common mission with me in wanting to improve the health of the community," Curley says.
Since 2009, Curley has served as the executive director of the New York-based Jonas Center for Nursing Excellence, a philanthropic program dedicated to tackling today's most pressing nursing workforce issues.
She also served as a state representative in the Maine legislature from 2002 to 2007, where she established herself as one of the legislature's top health policy experts. There, she was appointed to the Health Committee of the National Conference of State Legislatures and the State's Long-term Care Oversight Committee.
"My experience in health care helped me become an advocate for patients, especially those who need help with Medicare and Medicaid. There's just insufficient support in those areas," says Curley.
Prior to entering politics, which also included a run for Congress in 2006, Curley was founder and CEO of a home health care and medical staffing business, Community Homecare, Inc. She also served on the faculty of the University of Southern Maine and was Director for Strategic Planning for Healthsouth Corporation/Advantage Health.
"I've always had an interest in community health and home care," Curley says. "I saw there was a growing demand for home care in the 1980s and worked to help address that need, especially in rural areas where there were often shortages of primary care physicians."
Today, at the Jonas Center, Curley is able to tackle some difficult issues head-on. This includes a recent initiative at the Jonas Center to direct close to $14 million of its own funds (and secured pledges of another $10.5 million in leveraged funds) to prepare 1,000 nurse faculty members and clinical leaders for training, with an emphasis on mental health issues. Mental health is a growing issue nationally, she says, especially as it pertains to veterans returning from war.
Curley encourages today's nurses to explore continuing educational and advanced-degree opportunities to help them keep pace with the ever-changing health care landscape.
"There continues to be a growing need for health care workers, and there are so many more opportunities for nurses today to fill those specialized roles," she notes.
2012 Distinguished Alumni Honoree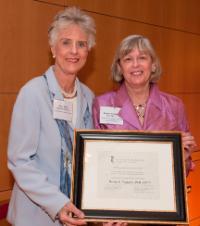 The 2012 Distinguished Alumni Award was presented to Dorrie K. Fontaine, PhD, MS '77, RN, FAAN, dean, University of Virginia School of Nursing, and Sadie Heath Cabaniss Professor of Nursing. A passion for critical care nursing underlies Dr. Fontaine's distinguished career as a clinician, scholar, researcher, educator, and nurse leader. At the University of Virginia (UVA) School of Nursing, Dr. Fontaine has implemented appreciative inquiry methodology as the basis for the school's strategic planning and launched an interdisciplinary process to create a transformational model to provide compassionate end-of-life care across the health care spectrum. In addition, she has been a strong advocate for interprofessional education, engaging both medical and nursing students in collaboration with the dean of the UVA School of Medicine. During her tenure, the Macy Foundation awarded both the UVA School of Medicine and the UVA School of Nursing $746,000 for a two-year grant focusing on educating third-year nursing and medical students with an interdisciplinary approach. Her priorities as dean at UVA include continued work in promoting healthy work environments, building more interprofessional collaborations, and increasing diversity in both the faculty and student populations.
‌Prior to her 2008 appointment at UVA, Dr. Fontaine was associate dean for academic programs and clinical professor at the University of California San Francisco School of Nursing (UCSF). Before going to UCSF, she held associate dean positions and taught at Georgetown University School of Nursing.
In 2003–2004, she served as president of the American Association of Critical Care Nurses, the largest specialty nursing organization in the world. That association recognized her contributions with its Lifetime Member Award.‌
‌Dr.‌ Fointaine‌ was inducted into the American Academy of Nursing in 1995, is a recipient of the Society of Critical Care Medicine's Presidential Citation, and is a member of the Sigma Theta Tau International Honor Society of Nursing. One of her alma maters, Villanova University, honored her with a Medallion for Contributions to the Profession in 1999. Dr. Fontaine received a Bachelor of Science in Nursing degree from Villanova University, a Master of Science from the University of Maryland School of Nursing, and a PhD from the Catholic University of America.‌
2011 Distinguished Alumni Honoree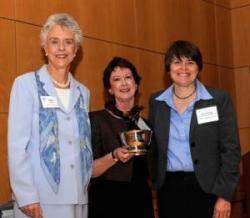 The 2011 Distinguished Alumni Award recipient was Donna Sullivan Havens, PhD '91, RN, FAAN, a professor in the University of North Carolina School of Nursing at Chapel Hill, where she teaches and mentors doctoral students in health care systems and outcomes.
Dr. Havens delivered the Distinguished Alumna Lecture, "Designing Systems to Shape Desired Outcomes: It All Began in Maryland "at the April 30, 2011 Alumni Reunion.
For more than 20 years, Dr. Havens has studied and published about the organization of nursing and outcomes in hospitals; the nursing work environment; nurse executive leadership, turnover, and outcomes; staff nurse decisional involvement; magnet hospitals; and frontline staff engagement in quality and safety initiatives.
She describes the purpose of her work as "Designing systems to promote desired outcomes (how to do it and how to make it stick)." She developed the Decisional Involvement Scale, an instrument used in the U.S. and internationally to identify levels of actual and desired staff nurse decisional involvement and to monitor change and associated outcomes over time. She is the principal investigator on two five-year initiatives funded by the U.S. Department of Health and Human Services to develop hospital capacity to implement what research teaches health care professionals about the organization of the nursing work environment and outcomes in 11 Pennsylvania hospitals (Building Capacity for Better Work & Better Care and Spiraling Upward for Nurse Retention & Quality Care). These action research studies are built on a foundation of partnership with hospitals to implement features of evidence-based nursing work environments to improve the quality of nursing practice and patient care.
Dr. Havens is a fellow of the American Academy of Nursing (AAN) as well as a member of AAN's Expert Panel on Quality and Expert Panel on Magnet Advancements. She is a member of the American Nurses Association; the American Association of Nurse Executives, from which she received the 2009 Nurse Researcher Award; and Academy Health. She serves on the National Advisory Board of the Forum for Shared Governance and the American Organization of Nurse Executives Future Care Delivery Committee, and she is a commissioner on the American Nurses Credentialing Center's Magnet Recognition Commission.
Dr. Havens earned a diploma in nursing from the Grace New Haven School of Nursing at the Yale Medical Center in New Haven, Conn., a BS in nursing from Cedar Crest College in Allentown, Penna., an MSN from Villanova University, and a PhD in nursing with an emphasis in health services research from the University of Maryland School of Nursing. She completed post-doctoral research on the organization of nursing and outcomes in the Center for Health Outcomes and Policy Research at the University of Pennsylvania School of Nursing.
2010 Distinguished Alumni Honoree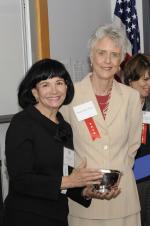 The 2010 Distinguished Alumni Award recipient was Myrna Eileen Mamaril, MS '93, RN, CPAN, CAPA, FAAN, nurse manager, Pediatric Post Anesthesia Care Unit (PACU), Johns Hopkins Hospital.
At the Alumni Reunion on May 1, 2010, Mamaril delivered the Distinguished Alumna Lecture, "Legacy of Leadership."
Myrna Eileen Mamaril, MS '93, RN, CPAN, CAPA, FAAN, is nurse manager of the Pediatric Post Anesthesia Care Unit (PACU) at the Johns Hopkins Hospital and has more than 30 years of clinical expertise in perianesthesia nursing. A captain in the Naval Reserves, Mamaril was instrumental in opening the Pre-surgical Testing Unit and the Ambulatory Procedure Unit services at the Bethesda Naval Hospital.
Mamaril is recognized as a leader in nursing, which is apparent through the numerous honors she has received during her nursing career. Most recently, she was awarded the JoPAN Mary Hanna Journalism Award for Research and the University of Colorado President's Award. In 2007, she was named a fellow of the American Academy of Nursing.
Mamaril began her nursing education at the Lutheran Hospital of Maryland's School of Nursing, where she received her diploma in nursing in 1968. She received her BSN from the College of Notre Dame of Maryland in 1988 and her MS in Trauma/Critical Care Nursing from the University of Maryland School of Nursing in 1993. Since graduating from the School of Nursing, she completed a post-master's certificate in administration, as well as post-graduate research studies in inferential statistics.
At the Forefront of Health Care Reform
Margaret (Peggy) Chamberlain Wilmoth, MS '79, BSN '75, was on the floor of the House of Representatives on March 23, 2010—the night the nation's momentous health care reform bill was passed.
In her role as a Robert Wood Johnson Policy Fellow, Wilmoth worked closely with Wendell Primus, senior policy adviser to Speaker of the House, Nancy Pelosi, throughout the months the health care negotiations were occurring. Since President Barack Obama signed the health care bill into law, most of the effort has shifted to the Administration to implement the new law. However, Congress remains engaged in the process.
Wilmoth treasures the experiences she has had in this process. "I think nurses bring a different perspective to this discussion because we're grounded in a holistic, humanistic profession," says Wilmoth, a professor of nursing at University of North Carolina, Charlotte, and a Brigadier General in the Army Reserve.
"It's an incredible educational opportunity for a Fellow who comes from a nursing background to not only learn a tremendous amount about how the federal policy process works, but to also further understand the nuances of our health care system. I also think we add a lot in that we bring [the focus] back to the patients, and to the family, raising the question: How is this going to affect real people?"
Wilmoth says her academic experience at the School of Nursing prepared her well for the important work ahead. "I'm always proud to say I'm a Maryland [Nursing] graduate. My foundation for the 'thought' work of nursing was laid there," she says.
"[The School] certainly allowed me the ability to be adaptable and to think critically about the world we live in. One thing that is clear in this health reform era is that while skills certainly are important—the key piece is: When and how do you apply those skills? How does nursing make a difference? What more do we need to know about the work of nursing? What is the value in both economic terms and quality of the work of nurses?
"The decisions that nurses make need to be grounded more in the reasoning behind the things we're doing and not just doing things by rote." —Lauren Geldzahler
Prepared to Lead
As Director of Nursing for NeuroCare and Behavioral Health Services at the University of Maryland Medical Center (UMMC), Greg Raymond, MS '10, BSN '05, MBA, RN, has far-reaching responsibilities.
Under broad administrative direction, he plans, organizes, directs, controls, and evaluates the delivery of patient care services within NeuroCare and Behavioral Health for UMMC; collaborates in setting long term strategy for clinical program development and service delivery; assumes responsibility for the design and implementation of patient care delivery systems that promote collaboration with other health care disciplines; facilitates the cost effective utilization of available resources; and supports the achievement of corporate quality and business objectives.
Key to being prepared to handle such a vast array of responsibilities, he says, is preparation he received through the MS/MBA program offered jointly by the School of Nursing and the University of Baltimore's Robert G. Merrick School of Business.
The programs, he says, were "incredibly complementary to each other." At the School of Nursing, he says, he learned "how to engage frontline staff and how to gain confidence in decision-making," as well as "how to better appreciate frontline staff as the greatest asset to the organization, and use that understanding to influence excellence in patient care."
The teaching certification he received at the School, he says, has been "particularly helpful in identifying the needs of employees, in terms of their education and development."
Concludes Raymond: "I believe my academic preparation within this specific program, which is designed to provide the expertise for leadership in the hospital setting, was an important part of my consideration for advancement to the director role." —Lauren Geldzahler