Maryland Action Coalition Summit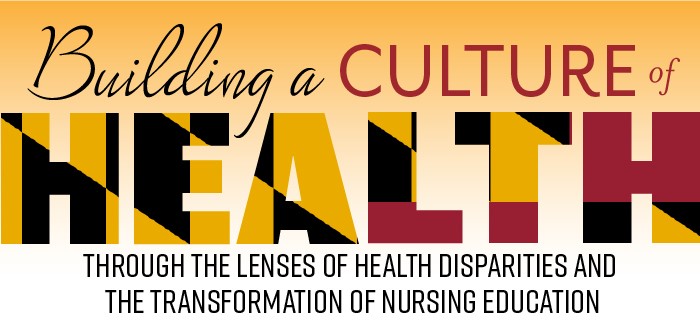 2018 Maryland Action Coalition Retreat & Leadership Summit:

Building a Culture of Health in Maryland Through the Lenses of Health Disparities and the Transformation of Nursing Education

Monday, May 21, 2018
University of Maryland School of Nursing, Room 130
655 W. Lombard St.; Baltimore, MD 21201
Overview
The Maryland Action Coalition serves as the driving force transforming health care through nursing in our state. Recognizing the important work already underway in Maryland and with a goal of long-term sustainable change, the Maryland Action Coalition leads the way to improve the health of the population and develop a culture of health.
The 2018 Summit:
Considers strategies and opportunities to improving health care services, health outcomes and minimize health disparities through policy and public health initiatives.
Examines advancements in applying the Robert Wood Johnson Foundation's Culture of Health framework to improve health outcomes for diverse populations.
Discusses how to apply the Culture of Health framework to address disparities and in particular address the opioid crisis in communities.
Provides participants a forum in which to disseminate innovation in practice, education, policy and research in advancing the Culture of Health.
Provides opioid overdose rescue training using Naloxone Nasal Spray.
We welcome everyone to the Summit and are proud to be a part of this nationwide movement.
---
Objectives
At the end of the summit attendees will be able to:
Describe both success in and opportunities for developing legislation that promotes a culture of health in Maryland.
Identify public health initiatives advancing the culture of health
Identify resources such as the NSP II program that support the design and testing of key initiatives
Safely respond to an opioid overdose using Naloxone Nasal Spray Treatment Packets.
---
Call for Abstracts
This year's summit focuses on building a culture of health in Maryland, through the lenses of health disparities and the transformation of nursing education. We invite abstract submissions for either podium or poster presentations. Abstracts that address the following areas will be reviewed.
Advancing a Culture of Health through various initiatives:
Education
Practice
Policy
Research
Partnerships
Submission Deadline: April 12, 2018
---
Travel and Parking Information
Location:
University of Maryland School of Nursing, Room 130
655 W. Lombard St.
Baltimore, MD 21201
The closest airport to the University of Maryland School of Nursing is Baltimore–Washington International Airport (BWI). Drive time from BWI to the School is approximately 15 minutes.
---
Planning Committee Members
Jane Kirschling, PhD, RN, FAAN
Dean and Professor
University of Maryland School of Nursing
Co-Chair, Maryland Action Coalition
Patricia Travis, PhD, RN, CCRP
Senior Associate Director, Clinical Trials, Johns Hopkins Medicine
Secretary, American Nurses Association
Co-Chair, Maryland Action Coalition
Patricia Franklin PhD, RN
Assistant Professor, Partnerships, Professional Education & Practice
Director, Professional Education
Director, Nurse Leadership Institute
University of Maryland School of Nursing