News Releases
University of Maryland School of Nursing Dean Completes Leadership Maryland Program
December 9, 2015
Professional development program focuses on state's social, economic, and environmental issues.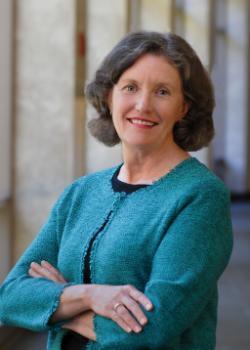 Baltimore, Md. –Jane M. Kirschling, PhD, RN, FAAN, dean, University of Maryland School of Nursing, recently completed Leadership Maryland's professional development program, dedicated to building a better Maryland by harnessing the strength of its local business and community leaders. Leadership Maryland honored Kirschling and the rest of the Class of 2015 at its 23rd annual graduation ceremony held Dec. 8 at the Lord Baltimore Hotel.
The Lutherville resident was one of 47 applicants chosen by a selection committee to complete Leadership Maryland's eight-month, hands-on learning program focused on the state's most vital social, economic, and environmental issues. The Class of 2015 reflects a cross-section of the state, including diversity of geographic location, profession, ethnicity, and gender.
"We are honored to welcome the Class of 2015 to our alumni family," said Renée M. Winsky, president and chief executive officer, Leadership Maryland. "These exceptional individuals have dedicated more than 130 hours of their time over the past eight months to learning about the key issues, people and places that make up each region of our state. Now that they've graduated, we challenge these leaders to use this knowledge and experience to become forces for meaningful change in their communities, both professionally and personally."
Leadership Maryland is open to senior-level executives with significant achievements in their careers and/or their communities. Members of the program have demonstrated a desire to learn more about Maryland's most critical issues and have a personal commitment to promoting a positive change in their organizations, communities, and the state.
"I am thankful for being selected to Leadership Maryland to participate in a program that centers on improving the quality of life for the residents of Maryland," Kirschling said. "It was a very rewarding experience to meet with some of Maryland's top decision makers and explore real solutions to better our communities economically, environmentally, and socially."
# # #
The University of Maryland School of Nursing, founded in 1889, is one of the oldest and largest nursing schools, and is ranked sixth nationally. Enrolling more than 1,700 students in its baccalaureate, master's, and doctoral programs, the School develops leaders who shape the profession of nursing and impact the health care environment.