News Releases
University of Maryland School of Nursing's McLaine Receives Rosalie Silber Abrams Legislative Award
October 6, 2017
Award is given to MNA member who significantly contributed to the legislative arena.
Baltimore, Md. – Patricia McLaine, DrPH, MPH, RN, assistant professor and director, Community/Public Health Nursing master's specialty, University of Maryland School of Nursing (UMSON), recently received the 2017 Maryland Nurses Association's (MNA) Rosalie Silber Abrams Legislative Award. McLaine was honored at the MNA's 114th Annual Convention on Oct. 5.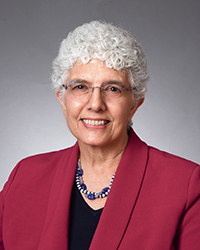 The award is given to an MNA member who has made a significant contribution on behalf of nursing in the legislative arena on the federal, state, or local levels. These activities can encompass a broad range of activities but must demonstrate a favorable reflection of nursing's interests, especially those of MNA. McLaine has been a member of MNA since 1992 and a public health nurse and advocate for those with health disparities for more than 20 years.
The award recognizes McLaine's efforts during the 2017 Maryland General Assembly session, when she tirelessly lobbied for the passage of SB422/HB 602, the Keep Antibiotics Effective Act of 2017, which restricts the regular use of antibiotics in livestock in an effort to curb the spread of drug-resistant bacteria. Maryland became the second state in the United States to pass such a law.
McLaine has also worked to prevent childhood lead poisoning and to combat health disparities in Baltimore. As chair of the Maryland Lead Poisoning Prevention Commission, McLaine has maintained a steady focus on improving prevention strategies and evaluating data to reduce the risks of lead poisoning facing Maryland's youngest residents and their families. Additionally, her work with the Reducing Asthma Disparities Program has helped shape Baltimore's home visit program for children with asthma.
"We are thrilled that Dr. McLaine's work has been recognized by the Maryland Nurses Association through this prestigious award. She has been a staunch advocate for public health, working nationally and locally to prevent lead-based paint poisoning, mitigate asthma disparities, and ensure healthy environments for children and their families," said UMSON Dean Jane M. Kirschling, PhD, RN, FAAN. "She is an outstanding leader and a role model for what expertise and persistence can accomplish on behalf of vulnerable populations."
McLaine also received an official citation from Maryland state Sen. Shirley Nathan-Pulliam, BSN '80, RN, District 44. The citation recognized McLaine for being honored with the Rosalie Silver Abrams Legislative Award for her work on the Keep Antibiotics Effective campaign and for her dedicated work on lead poison prevention.
"I am deeply honored to be nominated by my colleagues from MNA to receive the Rosalie Silver Abrams Legislative Award. Health is so much more than health care, and our interests as nurses go well beyond our practice concerns as a profession," McLaine said. "In a larger sense, this work is part of what we do every day as nurses to build a culture of health. The food we eat, the air we breathe, the neighborhoods and homes where we live, and the places where we work are all part of the environment where good health begins and is maintained. I am proud as a community/public health nurse to have the opportunity to support the health of the people of Maryland and our communities at this policy level."
In recognition of her efforts, McLaine also received a Baltimore City Health Equity Award last spring. Additionally, in fall 2016, McLaine and her faculty colleagues also received two American Association of Colleges of Nursing awards for their forward-thinking initiatives: the Innovation in Professional Nursing Education Award and the Innovations in Baccalaureate Population Health Award.
# # #
The University of Maryland School of Nursing, founded in 1889, is one of the oldest and largest nursing schools in the nation and is ranked among the top 10 nursing schools in the United States. Enrolling more than 1,800 students in its baccalaureate, master's, and doctoral programs, the School develops leaders who shape the profession of nursing and impact the health care environment.