News Releases
Friedmann Elected President of the International Society for Anthrozoology
July 30, 2015
Friedmann to serve third stint as the Society's chief executive officer.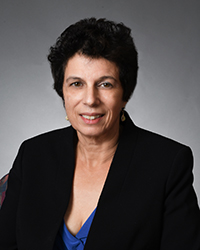 Baltimore, Md. – Erika Friedmann, PhD, professor and associate dean of research, University of Maryland School of Nursing, has been elected president of the International Society for Anthrozoology (ISAZ). She served as the Society's inaugural president from 1991-1995 and again from 2007-2011.
As ISAZ's president, Friedmann functions as the organization's chief executive officer. She is responsible for the general management of ISAZ, which includes convening all meetings, signing contracts and checks, and ensuring all orders and resolutions of its board are carried out.
"I just returned from our annual meeting and continue to be impressed with the number of new researchers, the diversity of topics, and the high quality of research in human-animal interactions (HAI)," Friedmann said. "I'm excited to have the opportunity to expand the activities of the Society and to mentor junior scholars to become HAI leaders of the future."
Friedmann is a founding member of ISAZ and is a member of the editorial board of Anthrozoos, the Society's research journal. She has contributed more than 150 papers to scientific journals, and collaborates and consults with researchers worldwide on anthrozoological research.
ISAZ is a nonprofit, nonpolitical organization with a worldwide, multi-disciplinary membership of students, scholars, and interested professionals. It promotes academic, scientific, and scholarly research into all aspects of HAI, and fosters interaction between HAI researchers on an international basis.
# # #
The University of Maryland School of Nursing, founded in 1889, is one of the oldest and largest nursing schools, and is ranked sixth nationally. Enrolling more than 1,600 students in its baccalaureate, master's, and doctoral programs, the School develops leaders who shape the profession of nursing and impact the health care environment.