News Releases
University of Maryland School of Nursing's Chen Elected Officer of Maryland Association for Institutional Research
January 28, 2016
MdAIR is for state institutional research and assessment professionals working in higher education.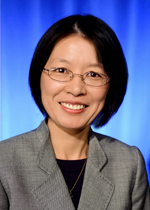 Baltimore, Md. – Lynn Chen, PhD, assistant professor, University of Maryland School of Nursing, has been elected membership chair of the Maryland Association for Institutional Research (MdAIR). Chen has been a member of MdAIR since 2012.
MdAIR is a Maryland-based organization comprised of institutional research and assessment professionals who work at public or private two- and four-year institutions of higher education. The Association seeks to provide valuable and value-added events for members; grow membership to include a wider array of constituent groups; and standardize functions and processes of the organization to improve efficiency and sustainability.
As membership chair, Chen ensures the official status of all MdAIR contacts are accurate and up-to-date; maintains the membership roster and listserv; coordinates with the webmaster to make sure members have access to all web resources; distributes notices, minutes, proposed amendments to the Articles of Incorporation and/or Bylaws Amendments, and other items of interest to membership; and announces results of referenda(s) on proposed amendments to members. Additionally, Chen plans and conducts outreach and recruitment activities for the purpose of increasing MdAIR membership and assists the awards committee with determining the eligibility of recipients for emeritus membership status.
"I am truly grateful for this opportunity and am happy that I am being recognized and supported by my colleagues," Chen said. "Serving as membership chair will give me a chance to network with other professionals who are doing similar work at other institutes of higher education in Maryland. I am looking forward to planning and conducting outreach and recruitment activities to increase MdAIR's membership."
# # #
The University of Maryland School of Nursing, founded in 1889, is one of the oldest and largest nursing schools, and is ranked sixth nationally. Enrolling more than 1,700 students in its baccalaureate, master's, and doctoral programs, the School develops leaders who shape the profession of nursing and impact the health care environment.