News Releases
University of Maryland School of Nursing Clinical Instructor Selected to Nurse Faculty Loan Program
March 4, 2015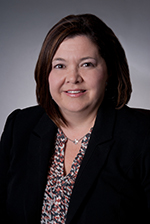 Program is designed to address nursing workforce shortage through highly-educated faculty.
Baltimore, Md. – Mary Pat Ulicny, MS '11, MHA, RN, CNE, clinical instructor and clinical simulation lab director for the University of Maryland School of Nursing's (UMSON) Bachelor of Science in Nursing program, at the Universities at Shady Grove (USG), has been selected to the Health Resources and Services Administration's (HRSA) Nurse Faculty Loan Program (NFLP). Its purpose is to address the nursing workforce shortage by increasing the number of qualified nursing faculty in the classroom.
NFLP provides funding to schools of nursing to support the establishment and operation of its loan fund. Participating schools make loans available from the fund to assist registered nurses with enrolling in an advanced education nursing program in preparation for a nursing faculty role. Loan recipients may receive partial loan forgiveness if they finish their program and serve as full-time nursing faculty for the prescribed period of time. Up to 85 percent of the loan may be canceled over four years in return for serving as full-time faculty at any accredited school of nursing.
"The NFLP award recognizes the importance of preparing nursing faculty members for the future. With the access to such loans, nurses working toward a doctoral degree can have a wider range of program opportunities," said Rebecca Wiseman, PhD '93, RN, assistant professor and chairperson for the UMSON's program at USG." "Mary Pat sought a program that offered a strong foundation in simulation methodology. Her connections with leaders in the simulation field will bring added depth and insights to clinical simulation methodologies. We look forward to learning from Mary Pat as she continues her educational journey."
Funds will be paid annually to the student's institution as long as the recipient remains in good academic standing. The loan is for a maximum of five years. Ulicny has been approved for $14,124, for 12 credits, and will be taking PhD courses at Duquesne University School of Nursing in Pittsburgh, Penna.
"The NFLP award will definitely alleviate the financial burden of tuition and fees for my PhD program. This award will help me to reach my goals as a nursing researcher, educator, and leader in the area of simulation," Ulicny said. "I am hoping that my research can add to my current body of knowledge by providing theoretical foundational approaches that link simulation practices to the improvement of patient safety and outcomes."
# # #
The University of Maryland School of Nursing, founded in 1889, is one of the oldest and largest nursing schools, and is ranked eleventh nationally. Enrolling more than 1,600 students in its baccalaureate, master's, and doctoral programs, the School develops leaders who shape the profession of nursing and impact the health care environment.