News Releases
Retired University of Maryland School of Nursing Professor, Dr. Sue A. Thomas, Awarded Emeritus Status
January 10, 2014
Thomas will continue to work with faculty and students.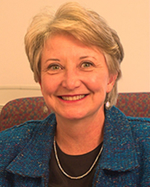 Baltimore, Md. – The University of Maryland School of Nursing (UMSON) is pleased to announce that Sue Ann Thomas, PhD, RN, MS '72, BSN '69, FAAN, former professor and assistant dean for the PhD program, has been granted professor emeritus status by the University of Maryland, Baltimore.
Highlights from her tenure at the UMSON include leading an extensive update of the PhD curriculum and the development of the Centers of Research Excellence. Although Thomas retired from UMSON in 2013, she continues to mentor PhD students and work with faculty members and researchers. She is currently helping six PhD students complete their dissertations and advising students on course work.
"I am honored to have been appointed professor emeritus at the School of Nursing. As an alumna and faculty member of 25 years, I am enthusiastic and excited about continuing my rewarding relationship with the School," Thomas said. "I look forward to mentoring our outstanding students and collaborating with my valued colleagues."
Thomas's research focused on cardiovascular health. With a $1.2 million study from the National Institutes of Health, she compared the psychological outcomes of standard lay training in CPR to standard training plus the use of a home automatic external defibrillator.
Thomas has served on the Maryland Heart Association's Research and Nursing Education Committees and was a member of the American Nurses Association, the Association of Critical-Care Nurses, and the Maryland Nurses Association. She authored and/or contributed to nearly 100 publications, including books, journals, book reviews, and editorials. Thomas is a Fellow in the American Academy of Nursing and a member of Sigma Theta Tau International Honor Society of Nursing.
"Dr. Thomas is a well-respected mentor, teacher, and researcher," said UMSON Dean Jane M. Kirschling, PhD, RN, FAAN. "Her research, curriculum development, and mentorship of students and junior faculty have played an integral part in furthering the educational mission of the School of Nursing. I am very pleased that her efforts have been recognized through her selection as professor emeritus."
# # #
The University of Maryland School of Nursing, founded in 1889, is one of the oldest and largest nursing schools, and is ranked eleventh nationally. Enrolling more than 1,700 students in its baccalaureate, master's, and doctoral programs, the School develops leaders who shape the profession of nursing and impact the health care environment.