News Releases
University of Maryland School of Nursing Professor Inducted into Nurse Researcher Hall of Fame
August 12, 2014
Inductees have made significant research contributions to the profession and people it serves.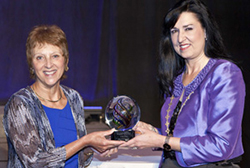 Baltimore, Md. – The University of Maryland School of Nursing (UMSON) is pleased to announce that Robin P. Newhouse, PhD '00, RN, NEA-BC, FAAN, professor and chair, Department of Organizational Systems and Adult Health, was recently inducted into the International Nurse Researcher Hall of Fame. Newhouse was one of 25 nurse researchers inducted at the Sigma Theta Tau International (STTI) Honor Society of Nursing's 25th International Nursing Research Congress held in Hong Kong.
Created in 2010, the International Nurse Researcher Hall of Fame is one of STTI's International Awards for Nursing Excellence. The award recognizes nurse researchers who have achieved significant and sustained broad national or international recognition for their work, and whose research has impacted the profession and the people it serves.
"We are very proud of Dr. Newhouse for receiving this distinguished honor," said UMSON Dean Jane M. Kirschling, PhD, RN, FAAN. "She has worked tirelessly over the years as a nurse researcher to create innovative methods to improve the quality of care delivered to patients by health care professionals. It is nice to see that her efforts are being recognized both nationally and internationally."
Newhouse's research has promoted the adoption of evidence-based interventions. Her team's multi-site studies have demonstrated improvements in health care for people with heart failure and/or substance use, while providing evidence for policy makers that care delivered by advanced practice registered nurses is high quality, safe, and effective.
"My induction into the STTI Nurse Researcher Hall of Fame is such an honor, but is clearly an accomplishment that I did not reach alone," Newhouse said. "I am thankful for my mentors, research team members, collaborators, partner clinicians, and patients who have worked with me over many years to answer questions needed to improve care."
Throughout her career, Newhouse has received multiple national and international appointments as a result of her research. She has served on the Methodology Committee of the Patient Centered Outcomes Research Institute and two Institute of Medicine Committees, the Standing Committee on Credentialing Research in Nursing, and the Study on Treatment of Cardiac Arrest: Current Status and Future Directions. She has also chaired the American Nurses Credentialing Center's Research Council and the Research and Scholarship Advisory Council for STTI. She was elected to the Board of AcademyHealth in 2013.
# # #
The University of Maryland School of Nursing, founded in 1889, is one of the oldest and largest nursing schools, and is ranked eleventh nationally. Enrolling 1,700 students in its baccalaureate, master's, and doctoral programs, the School develops leaders who shape the profession of nursing and impact the health care environment.