News Releases
University of Maryland School of Nursing to Offer Neonatal Nurse Practitioner Post-BSN to DNP Specialty
February 23, 2015
The NNP specialty will be the only one offered in Maryland.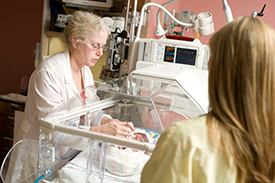 Baltimore, Md. – Beginning in fall 2015, the University of Maryland School of Nursing (UMSON) will offer a Neonatal Nurse Practitioner (NNP) Post-Bachelor of Science in Nursing to Doctor of Nursing Practice (DNP) specialty. An NNP is an advanced practice nurse whose scope of practice includes the provision of direct patient care to pre-term infants, full-term infants, neonates, and children up to age 2.
UMSON is launching the new specialty in response to a continued need to strengthen the NNP workforce. Education for the NNP role includes competencies specific to the neonatal population. NNP graduates are prepared to function in the NNP role, as it currently exists, in neonatal intensive care units, step down units, newborn nurseries, and developmental follow up clinics.
"Infant mortality and pre-term birth rates remain high nationally and in the state of Maryland. Unfortunately, recent NNP workforce surveys reveal that for every NNP who graduates, there may be as many as 80 positions that are unfilled," said Jan Wilson, DNP, CRNP, NNP-BC, assistant professor and NNP specialty director. "The shortage is compounded by the fact that many of our most seasoned NNPs have 10 to 20 years of experience and will be retiring within the next five to 10 years."
Satisfactory completion of the program results in the award of the DNP degree and eligibility to take the national certification examination in the neonatal specialty area. Key doctoral requirements include preparation for leadership in nursing and health care; preparation for innovative, evidence-based specialized advanced nursing practice; health care policy; interprofessional collaboration; and information systems and use of technology in patient care and health care.
"This program will be the first and only DNP neonatal nurse practitioner program in the state of Maryland," Wilson said. "We are confident that our graduates will be strategic, collaborative partners in helping to address the many problems faced by this vulnerable population."
# # #
The University of Maryland School of Nursing, founded in 1889, is one of the oldest and largest nursing schools, and is ranked eleventh nationally. Enrolling 1,700 students in its bachelor's, master's, and doctoral programs, the School develops leaders who shape the profession of nursing and impact the health care environment.