News Releases
Wiseman Named Assistant Dean for Nursing Program at the Universities at Shady Grove
March 30, 2009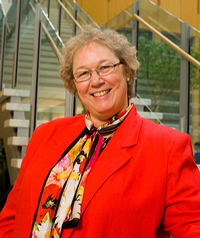 Baltimore, Md. — Rebecca Wiseman, PhD, RN, an assistant professor at the University of Maryland School of Nursing and former director of the Governor's Wellmobile program, has been named assistant dean for the nursing program at the Universities at Shady Grove (USG) in Rockville. Wiseman, who joined the faculty in 2002, is a 1993 graduate of the School of Nursing's PhD program, where her studies focused on education policy and administration.
Prior to joining the School of Nursing, Wiseman worked as a senior staff specialist for workplace advocacy at the American Nurses Association in Washington, D.C. The remainder of her career has been spent as a nurse educator, administrator, and staff nurse at a variety of universities and health care facilities.
The School of Nursing launched an expansion of its Bachelor of Science in Nursing (BSN) program at USG in fall 2008 to meet the increasing demand for highly skilled nurses in the Baltimore-Washington, D.C. region. BSN enrollment at USG now stands at 160, and is slated to nearly double within the next five years.
"I am looking forward to working with the faculty and staff at USG as we move toward increasing enrollment at that campus," says Wiseman. "The facility's new clinical simulation labs and excellent instructors will help our students gain the skills they need to make a marked difference when they enter the workplace. In addition, the interdisciplinary opportunities at USG prepare our students to work in more collegial and equitable patient-focused teams."
While Wiseman is looking forward to leading the nursing program at USG, she says the move is bittersweet. "I am excited about the opportunity to expand our program at USG and I look forward to the challenges ahead," she said. "But I will truly miss the Wellmobile teams and interaction with the clients we serve."
The University of Maryland School of Nursing, founded in 1889, is one of the oldest and largest nursing schools, and is ranked seventh nationally. Enrolling more than 1,700 students in its baccalaureate, master's, and doctoral programs, the School develops leaders who shape the profession of nursing and impact the health care environment