News Releases
University of Maryland School of Nursing Assistant Professor Named Robert Wood Johnson Foundation Scholar
September 11, 2013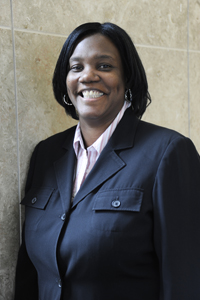 Baltimore, Md. – Yolanda Ogbolu, PhD, CRNP-Neonatal, an assistant professor at the University of Maryland School of Nursing, is one of 12 nurse educators from across the nation to earn the highly competitive grant from the Robert Wood Johnson Foundation (RWJF) Nurse Faculty Scholars program. Ogbolu received a three-year, $350,000 award to promote her academic career and support her research. She is part of the program's sixth cohort.
RWJF's Nurse Faculty Scholars program, which seeks to develop the next generation of national leaders in academic nursing, offers talented junior faculty three years of career development support. Through the program, RWJF aims to strengthen the academic productivity and overall excellence of nursing schools by providing mentorship, leadership training, and salary and research support to young faculty.
Ogbolu, a neonatal nurse practitioner, has a strong interest in researching methods to improve the delivery of equitable, patient-centered, culturally competent care. The goal of Ogbolu's research is to examine whether the adoption of cultural competency standards influences the patient's perception of their experience during care. Through the study, Ogbolu will examine organizational and contextual factors that drive and impede the adoption of new standards. In addition, Ogbolu will identify target areas for improvement in hospital policies and practices.
"Being selected by RWJF as one of the nation's next generation of nurse leaders is an exceptional opportunity and a responsibility which I embrace and plan to fulfill," Ogbolu said. "What I am looking forward to most is advancing my leadership and academic goals through direct interactions and collaborations with current nurse leaders and the multidisciplinary network of professionals in RWJF's network and on the University of Maryland, Baltimore campus."
With the help of mentors, RWJF scholars will design a professional development plan that will help increase their effectiveness as academic nursing leaders. As a result, scholars are expected to take their expertise in research, leadership, and teaching to a new level of proficiency, resulting in the strengthening of the reputation of the institutions they serve.
# # #
The University of Maryland School of Nursing, founded in 1889, is one of the oldest and largest nursing schools, and is ranked eleventh nationally. Enrolling nearly 1,700 students in its baccalaureate, master's, and doctoral programs, the School develops leaders who shape the profession of nursing and impact the health care environment.