News Releases
University of Maryland School of Nursing Administrator Named Editor of Nursing Journal
February 14, 2013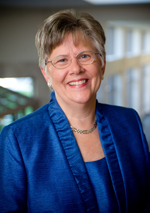 Baltimore, Md. – Patricia G. Morton, PhD, RN, ACNP-BC, FAAN, professor and associate dean for academic affairs, University of Maryland School of Nursing (UMSON), has been named editor of the Journal of Professional Nursing.
The Journal of Professional Nursing is a publication for nurse educators published by the American Association of Colleges of Nursing. Under Morton's editorial leadership, the journal will continue its scholarly emphasis on education, research, and policy. Morton wants to include articles that are timely and deal with contemporary issues in nursing, such as the national effort to implement recommendations from the 2010 Institute of Medicine report on the future of nursing. Additionally, Morton is seeking to gradually move the journal, which is currently in print form only, into the digital age.
"I am honored to take over a journal that has a long legacy of excellence. With the guidance of the editorial board, we will strategically plan for transitions in the journal that will help readers access it online and perhaps offer additional features electronically," Morton said.
Although Morton has been a nurse and nurse educator for more than 30 years, she also has a background in writing. She developed an interest in writing early in her career, and with the help of a mentor, she was first published in 1982. Over the years, Morton has published three textbooks and dozens of articles, and has sat on editorial boards of several nursing journals.
Morton's new role is in addition to her duties with UMSON and her position as a nurse practitioner at the University of Maryland Medical Center.
# # #
The University of Maryland School of Nursing, founded in 1889, is one of the oldest and largestnursing schools, and is ranked eleventh nationally. Enrolling more than 1,700 students in its baccalaureate, master's, and doctoral programs, the School develops leaders who shape the profession of nursing and impact the health care environment