News Releases
University of Maryland School of Nursing Dean Named One of Maryland's Top 100 Women for the Second Time
April 18, 2006
Baltimore, Md. – Janet D. Allan, PhD, RN, CS, FAAN, dean of the University of Maryland School of Nursing, has been named for the second time as one of Maryland's Top 100 Women. She also received this prestigious honor in 2004.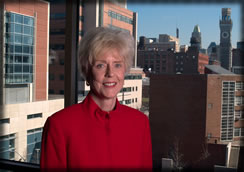 Allan, an expert on the nurse and nurse faculty shortages, recently facilitated the commitment of $100 million over the next 10 years to address these shortages through the Maryland Health Resources Cost Review Commission. She is chair of the Governor's Wellmobile Advisory Board, and is Maryland's Legislative Liaison for the American Association of Colleges of Nursing. She is a member of Robert Wood Johnson's Prescription for Health National Advisory Committee, and serves on the editorial boards forAdvances in Nursing Science and Hispanic Health International. Under her dynamic leadership, the School of Nursing has launched several innovative nursing programs, including Clinical Nurse Leader, Doctor of Nursing Practice, Certified Nurse Anesthesia, Clinical Research Management, and the Institute for Educators in the Nursing and Health Professions.
"I am honored to be among this esteemed group of accomplished women," says Allan. "This award not only acknowledges my accomplishments, but it also brings recognition to our School of Nursing."
The annual award program, established by The Daily Record in 1996, recognizes 100 of Maryland's leading women who are making an impact on the state. The award was created to recognize the outstanding achievements of professional women who reside or work in Maryland.
Awardees will be formally recognized at the 2006 Top 100 Women Celebration to be held May 8 at the Meyerhoff Symphony Hall in Baltimore