News Releases
Students, Others Advocate for University During General Assembly Session
April 12, 2012
RACHEL GRANFIELD AND CAELIE HAINES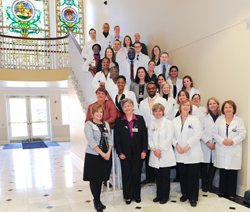 Dozens of representatives of the University met with state legislators recently during the annual advocacy events in Annapolis. Every winter, during the Maryland General Assembly's legislative session, each school schedules a day for students, faculty, and staff to discuss issues with lawmakers in the state capital.
Just before dawn on Jan. 20, a busload of participants from the Francis King Carey School of Law headed to Annapolis. Five students shadowed legislators during the morning, while the rest divided into groups of three or four.
Delegate Samuel Rosenberg, JD, a longtime adjunct professor at the law school, spoke to the attendees about strategies for advocacy and how to frame an issue.
"The event was informative and exciting," says student Ian Clark, whose group met with Lisa Gladden, JD '91, law school alumna and senator, as well as delegates Keiffer Mitchell Jr.; Shirley Nathan-Pulliam, who has a bachelor's degree from the School of Nursing; and Melvin Stukes. Student Elsa Clausen says she was pleased "to see how well-known and well-respected in Annapolis the law school is."
The participants, including University President Jay A. Perman, MD, and Phoebe A. Haddon, JD, LLM, dean of the Carey School of Law, also watched sessions in the Senate and the House of Delegates, and the group was recognized from the floor by both chambers of the legislature. Gladden spoke about her pride in the law school and its clinical program—in which she participated as a student—and Senator Jamin Raskin extended a special welcome to Haddon and praised her for receiving the 2011 Great Teacher Award from the Society of American Law Teachers.
The annual trip to Annapolis allows law school students to "learn about legislative advocacy and the major issues in front of the General Assembly," says alumna Teresa LaMaster, JD '95, associate dean for planning and external affairs and lecturer in law at the School. Seeing "another version of advocacy besides the courtroom" can open students' eyes to other professional possibilities for attorneys, adds Dawna Cobb, JD, assistant dean for student affairs and lecturer in law.
The visit also gives the law school a chance to show its appreciation for the legislature's support, says LaMaster. "We have a terrific group of graduates and friends in Annapolis, who are tremendously supportive of the law school and our students," she says. "So it is also always a day to say thanks."
On Jan. 25, Perman and E. Albert Reece, MD, PhD, MBA, University of Maryland vice president for medical affairs and dean of the School of Medicine, joined more than 40 medical students and faculty to speak with members of the General Assembly in Annapolis. During face-to-face meetings with lawmakers, participants discussed physician shortages, the positive impact that the School of Medicine's research success has on the state's economy, and the need for loan repayment assistance programs, scholarships, and funding for a new research building.
Michael Busch, speaker of the House of Delegates, kicked off the day during breakfast by thanking the students for participating in the political process.
"Legislative day," says Reece, "is a wonderful opportunity for our students and our faculty to thank legislators for their support, and share with them the exciting things that are happening on our campus."
"When I went to medical school we did not learn how to advocate for our profession," Perman told the students. "We didn't learn to advocate for our educational needs, so you all are very fortunate."
Second-year student Jeff Zapora says the day in Annapolis "was a really good learning experience," adding that it was "very interesting to see how things work in our state capital."
"I have no background in this kind of thing," said Jennifer Redd, a second-year student, "so it's really exciting to come here and see how it all works and to have them listen to what we have to say. It's great that the School gives us the opportunity to get involved in these kind of events."
"We're very proud of you," Senate President and law school alumnus Thomas V. "Mike" Miller Jr., JD '67, told the medical students. "We hope you continue your education, and we hope you stay in Maryland. We will continue to work on the loan assistance program to try and help. Sometimes it takes a long time to make good policy happen. But this is good policy. You are one of our most precious resources, and we need you to stay here in Maryland."
Ronald Hube contributed to this article. Article originally published in the VOICE.