News Releases
Renowned Nurse Informatician Joins School of Nursing Faculty
December 14, 2010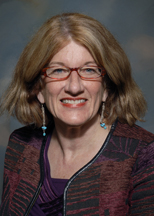 Nancy Staggers, PhD, RN, FAAN
Baltimore, Md. – The University of Maryland School of Nursing (UMSON) recently welcomed renowned nurse informatician and alumna Nancy Staggers, PhD '92, MS '85, RN, FAAN, to its faculty ranks. Staggers has an extensive background in clinical informatics, from determining user requirements to application prototyping, system selection, large systems implementation, and enterprise system evaluation. She's held a variety of executive positions, including Associate Chief Information Officer, Information Technology Services for the Health Sciences Center, University of Utah; Program Director for the $138 million enterprise clinical information systems at Catholic Healthcare West; and Director for Corporate Informatics, U.S. Department of Defense (DOD). During her career with the DOD, Staggers led the program to select and manage an enterprise inpatient clinical information system, now installed in Army, Navy, and Air Force hospitals worldwide.
Staggers' national leadership includes chairing the American Nurses Association task force to rewrite the scope and practice for U.S. nursing informatics in 2001 and 2008. She is currently co-chair for a Heath Information Management and Systems Society Usability task force to develop a whitepaper on organizations' adoption of usability principles. She was co-editor for the journalComputers, Informatics, Nursing for 10 years. In her last position, Staggers was Nursing Informatics Program Director at the University of Utah where she taught systems implementation, project management, and human-computer interaction. Her area of research is human-computer interaction and interface design in health care applications. She has completed studies related to the optimal design of clinical systems applications for nurses; her most recent work relates to nursing handoffs.
Staggers spent 25 years in the U.S. Army and was the first formally trained informatics nurse in the Army Nurse Corps. In addition, she was the first PhD graduate in nursing informatics from UMSON.
"I'm very pleased to be returning to the School of Nursing, now as a member of the faculty," says Staggers. "I am honored to be a small part of the School's Nursing Informatics specialty and delighted that it continues to be known as a premier program in the U.S."
# # #
The University of Maryland School of Nursing, founded in 1889, is one of the oldest and largest nursing schools, and is ranked seventh nationally. Enrolling more than 1,700 students in its baccalaureate, master's, and doctoral programs, the School develops leaders who shape the profession of nursing and impact the health care environment