News Releases
Record Number of Graduates Receive Degrees at University of Maryland School of Nursing
May 24, 2010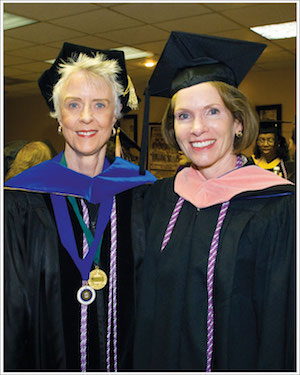 Baltimore, Md. – The University of Maryland School of Nursing (UMSON) graduated the largest class of nurses in the state – and possibly the largest in the nation – at its annual Convocation ceremony held May 21 at 1st Mariner Arena. The 645 graduates – a record number for UMSON – included 315 Bachelor of Science in Nursing, 308 Master of Science, seven PhD, and 15 Doctor of Nursing Practice graduates.
Janet D. Allan, PhD, RN, FAAN, dean of the School of Nursing, welcomed graduates, family members, faculty, and friends, and extended remarks to the graduates.
"You begin your careers at a time when nursing presents unparalleled possibilities – no other profession offers such a diverse range of career paths and opportunities for professional advancement. Moreover, very few professions afford you the privilege of having a significant impact on the lives of individuals, families and communities as nursing does."
Frances B. Phillips, RN, MHSA, deputy secretary for public health services, Maryland Department of Health and Mental Hygiene, delivered the Convocation address.
In speaking about economic recovery Phillips said, "I urge you to look for the possibilities that reform brings. Look for a possible career plan reset in a direction, perhaps unexpected, where your values, skills, and interests can thrive." Phillips closed with a quote from Conan O'Brien on the night he was fired as anchor of the Tonight Show. "'Nobody in life gets exactly what they thought they were going to get. But if you work really hard and you're kind, amazing things will happen.'"
Later in the day, School of Nursing graduates participated in the University of Maryland, Baltimore Commencement ceremony at 1st Mariner Arena, where Congressman Elijah E. Cummings delivered the Commencement address.