News Releases
Nursing Students Descend on Annapolis to Rally Support for Nursing Education
February 27, 2009
Baltimore, Md.—More than 40 students and faculty from the University of Maryland School of Nursing (UMSON) traveled to Annapolis Wednesday, Feb. 25, to meet with legislators and remind them that in these tough economic times, health care is the only sector of the economy that is still growing and adding jobs.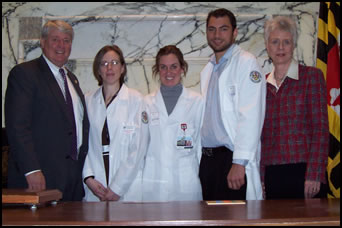 "Maryland needs to support expanding the capacity of nursing programs to enroll more students. This would have a twofold advantage of reinvigorating the economy and ensuring access to safe, high quality health care," said Janet D. Allan, PhD, RN, FAAN, dean of the School of Nursing.
Many of the legislators the students met with did not need much convincing. Del. Karen Montgomery (Dist. 14, Montgomery Co.) encouraged students to stay in Maryland to work after graduating. "We need nurses to help alleviate the shortage our state is facing," said Del. Montgomery. She also stressed the need for geriatric nurses to provide health care for the aging population.
Students were recognized on the floor of the House of Delegates, and several students had the opportunity to meet with Speaker of the House Mike Busch.
The Governor's Wellmobile, operated by the School of Nursing, also traveled to Annapolis and offered free blood pressure checks, body mass index screenings, and preventive health information. The Wellmobile serves uninsured and underinsured people throughout the state and functions as an educational site for UMSON students, who receive community nursing experience while assisting patients. Demand for the Wellmobile has surged as more and more Marylanders have lost insurance coverage along with their jobs.