News Releases
School of Nursing Mourns Loss of Faculty Member and International Nurse Expert, Debra L. Spunt
March 13, 2007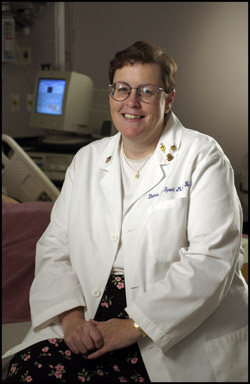 Baltimore, Md. – Debra L. Spunt, DNP, MS, RN, FAAN, an assistant professor and director of the Clinical Simulation Laboratories at the University of Maryland School of Nursing, died of cancer March 9 at Gilchrist Center for Hospice Care in Baltimore. She was 50 years old.
Spunt earned a Bachelor of Science in Nursing in1979, a Master of Science in 1983, and the Doctor of Nursing Practice in 2007, all from the University of Maryland School of Nursing.
She was a member of the School of Nursing faculty since 1984.
Spunt was nationally and internationally recognized for her knowledge, expertise, and leadership in clinical simulation – the use of computerized human patient simulators and patient care scenarios to educate nurses and other health care providers. She was responsible for the design, administration, and management of the School's 28 clinical simulation laboratories, considered the preeminent (nursing) student learning labs in the world. In this role, she collaborated with faculty on the integration of simulation into the nursing curriculum, and in doing so, has helped prepare thousands of nurses worldwide. She was also responsible for teaching, research, partnerships, consultation, and recruitment.
"Debbie Spunt has touched thousands of lives, and we were very fortunate to have someone of her caliber serve on our faculty and direct our simulation labs," said Janet D. Allan, PhD, RN, CS, FAAN, dean of the School of Nursing. "She will not only be missed for her extraordinary work in the area of clinical simulation, but also as an outstanding teacher, colleague, and dear friend to all who have come to know her."
Spunt was a Fellow in the American Academy of Nursing and a member of the American Nurses Association, the Maryland Nurses Association, Sigma Theta Tau International
Honor Society of Nursing, the National League of Nursing, and the Maryland League for Nurses. She co-founded the International Nursing Association for Clinical Simulation and Learning and served as its first president. She is survived by a daughter, Ellen M. Spunt, an aunt and uncle, and many friends.
An endowment has been initiated in memory of Spunt and her contributions to the School of Nursing and the nursing profession, and to celebrate her passion for promoting the use of clinical simulation in nursing education, research, and practice. Contributions can be made to UMBF/SON for the The Debra L. Spunt Clinical Simulation Practice and Research Endowment, University of Maryland School of Nursing, Office of Development, 655 West Lombard St, Room 727, Baltimore, MD 21201