News Releases
Mobile Clinic Brings Health Services to Seat Pleasant's Uninsured
May 6, 2008
Seat Pleasant, Md. — The Governor's Wellmobile Program, a fleet of four 33-foot long vans equipped as traveling health clinics, opened it newest location May 1 at the John E. Feggans Center in Seat Pleasant, Md. The clinic plans to offer services to uninsured members of the community from 11 a.m. to 3 p.m. the first Thursday of every month initially, and eventually increase to twice monthly visits.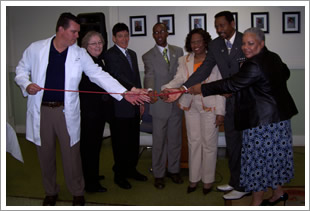 "With one in five residents uninsured and geographically cut off from surrounding population centers by the beltway on one side and the Anacostia on the other, Seat Pleasant is in urgent need of basic prevention, education, and primary health care," said. Rebecca Wiseman, PhD, RN, Wellmobile Program director and assistant professor at the University of Maryland School of Nursing. "But the main reason we are here is that the community has worked long and hard to make it happen."
The Governor's Wellmobile Program has been operated by the University of Maryland School of Nursing since 1994 through a combination of state and private funding. It uses family nurse practitioners and graduate-level nursing students to provide primary health care services to underserved and uninsured residents of Central Maryland, Western Maryland, and along Maryland's Eastern Shore. In 2007 alone, the program saw more than 7,000 patients and saved the state over $2.7 million in averted emergency room fees.
The idea of extending Wellmobile services to Seat Pleasant grew out of the City of Seat Pleasant-University of Maryland Health Partnership. The Partnership, launched in 1999 with the University's Department of Public and Community Health and since expanded to other academic units, focuses on providing health-related services for residents while creating learning and research opportunities for students and faculty.
"It's tragic that in this city of 5,000 there is not a single physician," said Dr. Jerrold Greenberg, professor emeritus of the University of Maryland School of Public Health, and a driving force behind the project. "Barriers to health care often result in people not getting the care they need. By eliminating the barriers of cost and the need to travel, it is expected that more people in Seat Pleasant will obtain the services they so desperately need and deserve."
The Wellmobile will function as the hub of a community partnership that takes a holistic approach to health and can offer a broad array of coordinated resources for Seat Pleasant residents through collaboration among various government and non-profit entities. For example, Wellmobile representatives will work with the Prince George's County Health Department to offer HIV/STD testing—a priority given the city's large adolescent population. Additional services will be provided in conjunction with the School of Public Health, the School of Nursing, the University of Maryland Baltimore County, and other entities.
"This is a major accomplishment for our city considering the challenges we are facing in Prince George's County," said Seat Pleasant Mayor Eugene W. Grant. "The Wellmobile will improve the overall health of our community and reduce their dependence on the hospital emergency room as a provider of last resort."
For more information about the Wellmobile Program, contact Dr. Rebecca Wiseman, 410-706-5395