News Releases
Funding from CareFirst to Support Wellmobile Program at University of Maryland School of Nursing (See Video)
February 9, 2012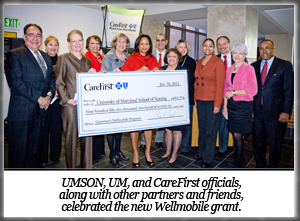 Baltimore, Md. – CareFirst BlueCross BlueShield recently presented a check for $955,276 to the University of Maryland School of Nursing (UMSON) to fund a three-year grant in support of the Governor's Wellmobile Program. The check presentation took place Jan. 30 during ceremonies at UMSON.
"We are here to celebrate the launch of a very special collaboration, which is going to have an important impact on the health care of some of the most vulnerable children, adults and families across three rural upper Eastern Shore counties," said Kathryn Montgomery, PhD, RN, associate dean for strategic partnerships and initiatives at UMSON.
The grant will fund primary care and enhanced care management for underserved and uninsured populations in Kent, Queen Anne's, and Talbot counties. Through partnerships and collaborations with health care systems, the goal of this model is to reduce unnecessary re-hospitalizations and emergency department utilization by filling the gap in the existing health care system infrastructure.
"In addition to delivering primary care services and providing a holistic approach to serving patients, you take your show on the road," said Maria Tildon, CareFirst senior vice president for public policy and community affairs.
Administered by UMSON, the Wellmobile Program consists of nurse-managed traveling health clinics created by statute in 1994. The dual mission of the program is to provide health services for underserved communities and uninsured individuals and to serve as a training site for UMSON students. The public-private partnership had expanded to four vehicles but then shrank in 2009 due to economic pressure brought on by the recession. Budget cuts had reduced the program to one geographic region and smaller-scale, community focused initiatives.
Montgomery expressed gratitude to CareFirst for the funding, which allows not only the reinstatement of Wellmobile service in the Eastern Shore region, but the introduction of a new model of care. She said it will perform a vital "gap-service" role in the transitioning landscape of health care.
University of Maryland President Jay A. Perman, MD, welcomed the collaborative nature of the venture, saying the event was an opportunity to celebrate partnership. "This is the way we have to move forward," he said. "We can achieve something no one institution can achieve alone." He added that the grant from CareFirst will allow the University "to meet our mission to the citizens of Maryland."
Maryland Delegate Joseline Pena-Melnyk, a member of the Wellmobile board of directors, also praised the CareFirst grant: "We need public-private partnerships. We cannot do it alone."
Delegate Adelaide Eckardt, RN; Robert Chrencik, MBA, president and chief executive officer of the University of Maryland Medical System; Gerard Walsh, MS, interim president and chief executive officer, Shore Health System; Scott Burleson, MBA, FACHE, executive vice president, Chester River Hospital Center; and T. Sue Gladhill, MSW, UM vice president for external affairs, also attended the ceremonies, which concluded with Wellmobile tours.
Susan Antol, MS, RN, an assistant professor at UMSON and Wellmobile program director, said: "We hope to develop a model that adds value to the community and supports the hospitals, primary care practices, and the local Federally Qualified Health Center in building a seamless network of health care, especially in this time of health care reform and the impact it has on current health care systems."
Wellmobile Gift Presentation Tour from UM news on Vimeo.
# # #
The University of Maryland School of Nursing, founded in 1889, is one of the oldest and largestnursing schools, and is ranked eleventh nationally. Enrolling more than 1,700 students in its baccalaureate, master's, and doctoral programs, the School develops leaders who shape the profession of nursing and impact the health care environment.