News Releases
Former Nursing School Dean Janet Allan is Honored with Dean Emeritus Title, Assumes New Duties at UMB
February 1, 2013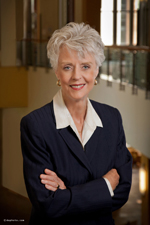 Baltimore, Md. – Janet D. Allan, PhD, RN, FAAN, former dean of the University of Maryland School of Nursing (UMSON), has been honored with the title of Dean Emeritus and will remain at the University of Maryland, Baltimore (UMB) working on several key initiatives to help strengthen the University.
UMB President Jay A. Perman, MD, praised Allan in conferring the status of dean emeritus. "Janet Allan's collaborative skills and versatile leadership abilities will continue to distinguish her contribution to the University," he said.
As dean emeritus, Allan continues to help to shape interprofessional education, conferring with her successor, Jane M. Kirschling, PhD, RN, FAAN, who upon becoming UMSON dean, accepted a newly-created position as UMB's director of interprofessional education.
In her new role, Allan is working with senior leadership of the UMB Office of Academic Affairs to implement policies of the University System of Maryland Board of Regents. Allan is helping to establish criteria for the periodic evaluation of deans and senior vice presidents as well as criteria to encourage entrepreneurial achievement at various levels.
She will continue to lead the implementation of The Future of Nursing: Leading Change, Advancing Health, a groundbreaking report by the Institute of Medicine (IOM) and Robert Wood Johnson Foundation (RWJF), which calls for nurses to practice to the full extent of their education and training. As a founding member of the Maryland Action Coalition Executive Committee, one of 36 state-based coalitions formed in response to the IOM/RWJF report, Allan leads key stakeholders who devise ways to implement its recommendations.
Allan, who retired as UMSON dean on Dec. 31, 2012, made a major impact during her decade-long tenure. The School's U.S.News & World Report ranking reached an all-time high, and UMSON achieved a top-20 ranking among schools of nursing receiving federal research funding. Enrollment rose, making UMSON one of the nation's largest schools of nursing.
# # #
The University of Maryland, Baltimore is home to the Graduate School and schools of dentistry, law, medicine, nursing, pharmacy, and social work and it is the founding campus of the University System of Maryland