News Releases
Dr. Susan G. Dorsey Named Associate Dean for Research at the University of Maryland School of Nursing
May 3, 2012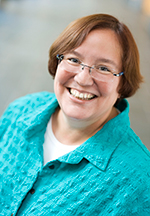 Baltimore, Md. – Janet D. Allan, PhD, RN, FAAN, dean of the University of Maryland School of Nursing (UMSON), has announced the appointment of Susan G. Dorsey, PhD, RN, FAAN, as associate dean for research. Dorsey, an associate professor and a member of the UMSON faculty since 2004, has served as interim associate dean for research since January 1, 2012.
Under Dorsey's leadership, UMSON's Office of Research will continue to build an effective infrastructure that supports and facilitates the science conducted by the research faculty, while creating synergy and new collaborative opportunities for UMSON researchers with those from other schools across the University of Maryland, Baltimore campus.
"The School of Nursing has steadily moved its research mission forward, most recently rising to 19th in receipt of funding (for schools of nursing) from the National Institutes of Health (NIH) and introducing two new centers of research excellence," says Dorsey. "My goal is to keep this momentum going while finding new ways to increase our extramural funding. To this end, one of our major initiatives is to implement the new five-year strategic plan for research, developed by our senior research faculty members, and to ensure its success."
"Dr. Susan Dorsey is a highly regarded nurse scientist who brings extensive research expertise, skills in developing substantial interdisciplinary linkages and partners, and innovative approaches to further develop UMSON's research mission," said Dean Janet Allan. "We are happy to have one of our illustrious alumnae assume this critical role."
In addition to her positions at UMSON, Dorsey holds an adjunct faculty appointment in the University of Maryland School of Dentistry's Department of Neural and Pain Sciences, serves as a full faculty member in the Marlene and Stewart Greenebaum Cancer Center at the University of Maryland Medical Center, and is an active faculty member in several campus-wide programs, including oncology, neuroscience, and personalized medicine. She is an affiliate faculty member at the Institute for Genome Sciences and in the Shock Trauma Anesthesiology Research (STAR) Organized Research Center in the University of Maryland School of Medicine.
Dorsey's basic and translational program of research in the molecular, cellular, and genetic mechanisms and chronic pain has been continuously funded by NIH and the American Pain Society. She is the principal investigator of the National Institute for Nursing Research P-30 funded University of Maryland Center for Pain Studies.
Dorsey holds a PhD and a Master of Science degree from UMSON, and a Bachelor of Science degree from West Virginia Wesleyan University. She did post-doctoral training at NIH's National Cancer Institute.
# # #
The University of Maryland School of Nursing, founded in 1889, is one of the oldest and largest nursing schools, and is ranked 11th nationally. Enrolling more than 1,600 students in its baccalaureate, master's, and doctoral programs, the School develops leaders who shape the profession of nursing and impact the health care environment