News Releases
Antol Named Director of Governor's Wellmobile Program
September 14, 2009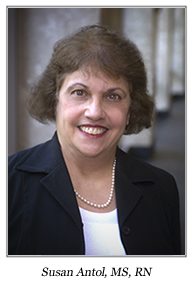 Baltimore, Md. — Susan Antol, MS, RN, an assistant professor at the University of Maryland School of Nursing (UMSON), has been named director of the Governor's Wellmobile Program. The program, which is operated by UMSON, was severely reduced last summer due to state budget cuts. Prior to the recent cutback, the Wellmobile Program consisted of four mobile units that traveled across the state providing primary care to underserved and uninsured citizens. It has been downsized to one van that currently serves Central Maryland. As the Program's new director, Antol plans to find creative ways to rebuild this vital program to its former level and beyond.
"The Wellmobile Program is a very successful model of nurse-run clinics that provide primary care, education, and advocacy to local underserved populations in rural and urban communities," says Antol. "I am seeking community partners with an interest in working collaboratively to obtain funding opportunities through local, state, and national initiatives, as well as community-based participatory research initiatives that can advance UMSON's education and research missions. Throughout this process, we will conduct needs assessments and utilize grant opportunities to partner with communities to create a sustainable service."
Since joining UMSON in 1998, Antol has served in many capacities, including instructor in the Community Public Health Nursing program and Director of Clinical Operations, where she led UMSON's nurse-managed initiatives, including the Wellmobile Program, the Open Gates Health Center, and school-based wellness centers. She worked with the Maryland Department of Human Resources in the development and implementation of Healthy Child Care Maryland and the statewide Covering Kids and Families initiative funded by the Robert Wood Johnson Foundation.
Antol is currently completing her PhD in Public/Community Health, with a focus in health services administration and vulnerable populations, at the University of Maryland, College Park.
The University of Maryland School of Nursing, founded in 1889, is one of the oldest and largest nursing schools, and is ranked seventh nationally. Enrolling more than 1,800 students in its baccalaureate, master's, and doctoral programs, the School develops leaders who shape the profession of nursing and impact the health care environment.