News Releases
School of Nursing Mourns Loss of Dean Emeritus Nan Hechenberger
March 7, 2014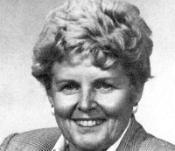 University of Maryland School of Nursing Dean Emeritus Nan Hechenberger, PhD, RN, died Thursday, March 6. She served as the School's third dean from 1978-1989. Prior to her appointment as dean, Dr. Hechenberger was a faculty member in the administration and education component of the School's graduate program and earlier taught in the Walter Reed Army Institute of Nursing (WRAIN) program. From 1989-1996 she served as president of Neumann College in Aston, Penna.
Some highlights of Dr. Hechenberger's tenure include the launch of one of the nation's first PhD nursing programs; the establishment of the nation's first master's program in trauma critical care; and the addition of graduate programs in health policy, nursing administration, and gerontology. A Board of Visitors was initiated and the School's first endowed chair—the Sonya Gershowitz Goodman Endowed Chair in Gerontology—was established.
Dr. Hechenberger made a tremendous impact on the School of Nursing and she will be sorely missed by the School of Nursing community. Please keep her husband, Lou, and her family in your thoughts and prayers.
Condolences can be sent to:
Mr. Lou Hechenberger and Family
9 George's Way
Glen Mills, PA 19342
Arrangements are as follows:
Tuesday, March 11 – Viewing at 8 a.m.; Funeral Mass at 10 a.m. – St. Cornelius Catholic Church, 160 Ridge Road, Chadds Ford, PA 19317