News Releases
Lemaire Named Assistant Dean of Master of Science Program at University of Maryland School of Nursing
January 21, 2015
Assistant dean is responsible for developing and implementing program's policies and procedures.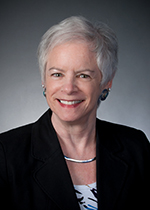 Baltimore, Md. – Jane M. Kirschling, PhD, RN, FAAN, dean, University of Maryland School of Nursing (UMSON), recently announced the appointment of Associate Professor Gail Schoen Lemaire, PhD '96, PMHCNS, BC, CNL, as assistant dean for the Master of Science program. Lemaire, a psychiatric mental health clinical nurse specialist and psychotherapist, has been a faculty member at UMSON since 2000, and currently serves as director of the Clinical Nurse Leader master's option.
In her new role, Lemaire is responsible for the development and implementation of the program's policies and procedures. She will also provide leadership in administration and program coordination, curriculum planning, student recruitment, advisement, and retention.
"I am very pleased to have been selected for this position," Lemaire says. "I am excited to have already assumed some of my new responsibilities and am looking forward to directing the master's program and contributing to the strategic operations of the School."
During her tenure at UMSON, Lemaire's clinical specialty has been psychiatric mental health nursing. She has taught psychiatric nursing at the undergraduate and graduate levels and will continue in that capacity. Lemaire's research interests have focused on community-based psychiatric outcomes and women's mental health.
"Dr. Lemaire is a highly-respected member of our faculty who has demonstrated the attributes that we are looking for in the leader of our master's program," Kirschling said. "I am confident that she will make significant contributions to the strategic operations and direction of our program while furthering the mission of the School."
Lemaire earned a PhD from UMSON; a Master of Science in Psychiatric Nursing from the University of Texas, San Antonio; and a Bachelor of Science in Nursing from Boston University.
# # #
The University of Maryland School of Nursing, founded in 1889, is one of the oldest and largest nursing schools, and is ranked eleventh nationally. Enrolling 1,700 students in its baccalaureate, master's, and doctoral programs, the School develops leaders who shape the profession of nursing and impact the health care environment.