News Releases
University of Maryland School of Nursing Professor Named to Institute of Medicine Research Committee
March 27, 2014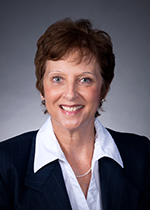 Baltimore, Md. – The University of Maryland School of Nursing is pleased to announce that Robin P. Newhouse, PhD, RN, NEA-BC, FAAN, professor and chair, Department of Organizational Systems and Adult Health, has been selected to an Institute of Medicine (IOM) research committee. Newhouse will serve on the IOM's Treatment of Cardiac Arrest: Current Status and Future Directions Committee.
The Committee will focus on the current status and future opportunities to improve cardiac arrest outcomes in the U.S. In conducting this study, researchers will examine current statistics and variability in survival rates from cardiac arrest.
Additionally, the study will access existing life-saving therapies and public health strategies that could improve survival rates. Committee members will also focus on promising areas of research and future steps to improve the quality of patient care.
"This consensus study will focus on understanding the evidence on outcomes for people who have experienced cardiac arrest both in the community and in the hospital," Newhouse said. "I am proud to work with the committee on this important health priority to improve the quality of care."
# # #
The University of Maryland School of Nursing, founded in 1889, is one of the oldest and largest nursing schools, and is ranked eleventh nationally. Enrolling more than 1,700 students in its baccalaureate, master's, and doctoral programs, the School develops leaders who shape the profession of nursing and impact the health care environment.