News Releases
University of Maryland School of Nursing Faculty Member Selected as Fellow of the American Association of Nurse Practitioners
March 18, 2014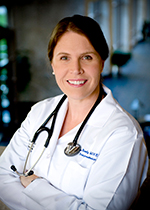 Baltimore, Md. – The University of Maryland School of Nursing (UMSON) is pleased to announce that Shannon Idzik, DNP '10, MS, '03, CRNP, CCRN, assistant professor and director of the Doctor of Nursing Practice program, has been selected to the 2014 Fellows of the American Association of Nurse Practitioners (FAANP) program. Adjunct faculty member Carmel McComiskey, DNP '10, MS '96, CRNP, director of Nurse Practitioners and Physician Assistants, University of Maryland Medical Center, has also been selected to the program.
FAANP members are visionaries committed to the development of imaginative and creative future nurse practitioner leaders. Fellows are charged with impacting national and global health through engaging recognized nurse practitioner leaders who have greatly influenced clinical practice, research, education, or policy while enhancing AANP's mission.
"Hard work and dedication to my profession has always been rewarding for me, but even more so when it is recognized by my peers. This is a huge honor," Idzik said. "As an AANP Fellow, I will continue to promote high-quality, accessible health care. In particular, I plan to lead policy initiatives to gain full practice authority for nurse practitioners across the nation."
AANP Fellows have demonstrated exceptional contributions to clinical practice, research, education, or policy. Established in 2000, the FAANP program is dedicated to the global advancement of nurse practitioners and the delivery of high-quality health care. The program not only enhances the AANP's mission, but also develops nurse practitioner leaders of the future while furthering the field.
"It is satisfying to see Dr. Idzik rewarded for her tireless work and remarkable contributions as a nurse practitioner," said UMSON Dean Jane M. Kirschling, PhD, RN, FAAN. "Dr. Idzik is an invaluable member of our faculty. The School has been fortunate to have a nurse educator of Dr. Idzik's caliber to educate and mentor future advanced practice nurses."
# # #
The University of Maryland School of Nursing, founded in 1889, is one of the oldest and largest nursing schools, and is ranked eleventh nationally. Enrolling 1,700 students in its baccalaureate, master's, and doctoral programs, the School develops leaders who shape the profession of nursing and impact the health care environment.