News Releases
School of Nursing Faculty Members Participate in Baltimore Homeless Count
February 27, 2015
By Kevin Nash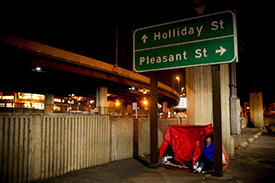 Three School of Nursing faculty members braved frigid, windy conditions on two consecutive nights this winter to participate in Journey Home Baltimore's Point in Time (PIT) count.
Katherine Fornili, MPH, RN, CARN, assistant professor; Veronica Gutchell, DNP '13, RN, CNS, CRNP, assistant professor; and Rosemary Riel, MAA, clinical instructor and associate director, Office of Global Health, were members of a team of 12 who took to the Interstate 83 Corridor to assist the City's homeless population. The PIT count is a two-night event where volunteers travel in teams to help track sheltered and unsheltered homeless citizens. Its purpose is to determine the prevalence of homelessness in Baltimore while assessing the needs of the population.
Teams were armed with blankets, coats, hats, mittens, shoes, socks, and snacks as they ventured onto the streets between midnight and 6 a.m. Hundreds of volunteers were trained before participating in the survey, which took place in various locations throughout the City. The School of Nursing's team surveyed 24 homeless people, many of whom were not adequately dressed for the cold temperatures of the Code Blue night in Baltimore.
"I have been in public health nursing since 1983, and have spent a lot of time working with the homeless. I thought I had seen everything, but this experience helped me to realize that you really don't know what it's like to be homeless," Fornili said. "It's not until you are out with them in the wee hours of the morning, on a very cold, wet, snowy night, talking to a man wearing wet socks, but no shoes, that you begin to grasp it."
‌City officials announce a Code Blue when temperatures are expected to be below 25 degrees with winds of 15 miles per hour or higher, temperatures are less than 20 degrees, or during other periods of intense winter weather. With these conditions on the horizon, the team worked to convince homeless individuals to relocate to a shelter. If they accepted the offer, volunteers made calls to have them transported to a shelter. The team was able to send three to five homeless people to a shelter each night.
Although Baltimore has more than 4,000 homeless citizens, Journey HomeBaltimore's plan is to make homelessness rare and brief. It brings together the public and private sectors, not-for-profits, faith-based organizations, and concerned citizens to work on solutions for preventing and ending homelessness. The count will help the City allocate the appropriate amount of funds to assist its homeless.
"The experience of homelessness can seem overwhelming. I feel hopeful because there are a lot of people that care about this issue and came out in the middle of a winter night to conduct this important survey. There's something moving and hopeful in that fact," Gutchell said. "I am inspired by those who dedicate their professional lives to this cause and the volunteers who continue to work hard to make homelessness a temporary experience for individuals and families. It's that work and commitment that keeps me hopeful."‌