News Releases
University of Maryland School of Nursing Holds Inaugural December Graduations
December 18, 2014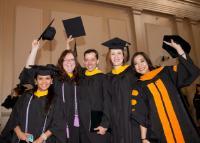 Baltimore, Md. – Commencement ceremonies for fall and winter 2014 graduates of the University of Maryland School of Nursing (UMSON) were held for the first time in December, marking another new tradition launched during UMSON's 125th anniversary year. Ceremonies were held Friday, Dec. 12, for Bachelor of Science in Nursing (BSN) graduates at the Universities at Shady Grove (USG), and Monday, Dec. 15, at the Hippodrome Theatre in Baltimore for graduates of Baltimore's nursing programs. Three hundred twenty-four degrees were awarded, including 139 BSNs, 160 Master of Science, 20 Doctor of Nursing Practice, and five PhDs. Nine certificates were awarded.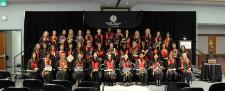 "You begin your careers at a time when nursing presents unparalleled possibilities—no other profession offers such a diverse range of career paths and opportunities for professional advancement," said Jane M. Kirschling, PhD, RN, FAAN, dean of the School of Nursing. "Moreover, very few professions afford you the privilege of having a significant impact on the lives of individuals, families, and communities as nursing does."
# # #
The University of Maryland School of Nursing, founded in 1889, is one of the oldest and largest nursing schools, and is ranked eleventh nationally Enrolling more than 1,700 students in its baccalaureate, master's, and doctoral programs, the School develops leaders who shape the profession of nursing and impact the health care environment.