News Releases
University of Maryland School of Nursing Professor Elected Fellow of Internationally Renowned Academy
February 19, 2014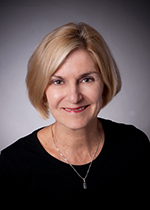 Baltimore, Md. – Jane Lipscomb, PhD, RN, FAAN, a professor at the University of Maryland School of Nursing, is a newly-elected Fellow of the Collegium Ramazzini. The Collegium is an academy comprised of elected Fellows who are distinguished, intellectually independent physicians, scientists and advocates.
Fellows have devoted their professional lives to the improvement of occupational and environmental health. Candidates for this prestigious honor are pursued from every continent around the world. Each candidate must clearly demonstrate a scientific research and societal commitment to translating science into policy.
"Dr. Lipscomb has worked tirelessly to investigate methods of preventing occupational injuries and illnesses in the workplace. It is very rewarding to see her efforts recognized internationally," said UMSON Dean Jane M. Kirschling, PhD, RN, FAAN. "We are proud to have Dr. Lipscomb representing the School of Nursing at home and abroad."
The Collegium seeks to advance the study of occupational and environmental health issues, bridging the world of scientific discovery with social and political centers. Lipscomb's research focuses on the prevention of occupational injuries and illnesses in the health care and social service workplace. Additionally, she has led research on workplace violence prevention.
"It's an honor to join this elite and important international group of scientists. My research into the health and safety hazards facing health care and social services workers and efforts to translate this research into public health policy is consistent with the Collegium's purpose of linking scientific discovery and social policy," Lipscomb said. "I look forward to being active in the organization and advancing my own work to make the workplace a safer and more just environment."
# # #
The University of Maryland School of Nursing, founded in 1889, is one of the oldest and largest nursing schools, and is ranked eleventh nationally. Enrolling more than 1,700 students in its baccalaureate, master's, and doctoral programs, the School develops leaders who shape the profession of nursing and impact the health care environment.