UMSON's Renn Selected as Co-Director of Center to Advance Chronic Pain Research at University of Maryland, Baltimore
July 26, 2023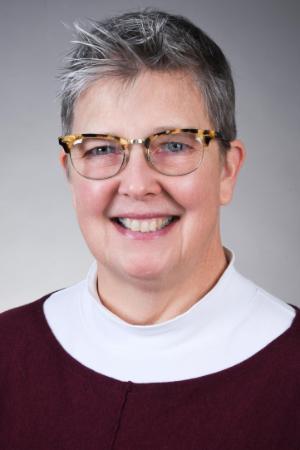 Baltimore, Md. - Cynthia L. Renn, PhD '04, MS '97, RN, FAAN, University of Maryland School of Nursing (UMSON) professor and chair of the Department of Pain and Translational Symptom Science, has been named co-director of the University of Maryland Center to Advance Chronic Pain and Research (CACPR), joining Man-Kyo Chung, DMD, PhD, CACPR co-director and professor and assistant dean for research at the University of Maryland School of Dentistry (UMSOD). Renn served as a founding member of CACPR's executive committee when the center was established in 2011.
CACPR's mission is to cultivate and expand the cutting-edge multidisciplinary pain research portfolio at the University of Maryland, Baltimore (UMB) with the overarching goal of improved patient care and quality of life. It seeks to promote basic, translational, and clinical biomedical research to advance the understanding and treatment of chronic pain. As a catalyst for this process, the center engages multidisciplinary research teams and scientist-clinician collaborations to address this critical health care problem, which is a burden to patients, their families, and society. Together, the faculty, staff, and student members of CACPR bring together a unique collection of skills to create an exciting research environment that is primed to make great strides in the field of pain research.
"It was a great honor to be named co-director," Renn said. "My predecessors built a strong foundation to make CACPR into the outstanding center that it is. I have big shoes to fill, and it is a great privilege to have the opportunity to try to fill them." Renn and Chung succeed Susan G. Dorsey, PhD '01, MS '98, RN, FAAN, professor at UMSON, and the late Joel D. Greenspan, PhD, professor and chair of the Department of Neural and Pain Sciences at UMSOD.
According to the U.S. Pain Foundation's "A Chronic Pain Crisis" report, an estimated 50 million Americans live with chronic pain, or pain that lasts most days or every day for three months or more. Of this group, 20 million suffer from high-impact chronic pain, or pain that interferes with basic functioning and activities of daily living, like personal hygiene and household chores. Pain is the No. 1 reason that Americans access the health care system and is also the leading cause of long-term disability in the United States. Estimates suggest pain costs the nation at least $560 - $635 billion a year in direct medical costs and lost productivity.
As a nurse scientist with a portfolio of National Institutes of Health grant-funded research and numerous publications, Renn's research focuses on understanding the cellular mechanisms underlying the development and persistence of chronic pain that arises from therapeutic drug treatment, traumatic nerve injury, chronic pain after traumatic lower extremity fracture, and low back pain.
In collaboration with Chung, Renn is responsible for planning visiting speakers; hosting an annual symposium; organizing periodic special events such as the screening earlier this year of the film This Might Hurt about a radical treatment for chronic pain, followed by a panel discussion; and leading regular meetings of the executive committee and meetings of CACPR members. She is responsible for planning and maintaining the budget and the production of CACPR's newsletter. She and Chung are constantly looking for new avenues to advertise the center, including sponsoring part of the 2024 annual meeting of the U.S. Association for the Study of Pain, which will be held in Seattle.
Renn is also a member of UMSON's Biology and Behavior Across the Lifespan Organized Research Center of Excellence. She joined UMSON in 2004 as an assistant professor and then was promoted to associate professor (tenured) in 2013 and professor (tenured) in 2020. She is also a tenured professor in the University of Maryland Marlene and Stewart Greenebaum Cancer Center's oncology program, and since 2017, she has been a member of the international faculty of the PhD Program in Neuroscience at the University of Milano-Bicocca in Milan, Italy. She was a Southern Nursing Research Society/American Nurse Foundation Scholar and is a Fellow of the American Academy of Nursing and a member of Sigma Theta Tau International.
CACPR arose from a solid foundation built on decades of successful pain research at UMB and by recognizing that the complex problem of chronic pain requires a broad perspective. It brings together nationally and internationally renowned clinical and preclinical translational scientists whose principal research focus is on the physiological, genetic, and psychosocial underpinnings of the development and persistence of debilitating chronic pain conditions.
UMSON has played an important role in expanding collaborative pain research on campus, including orchestrating the award of two interdisciplinary campus NIH center grants. In addition, both UMSON and UMSOD faculty have successfully competed for multiple-principal investigator NIH R01 grants across UMB schools. This interdisciplinary perspective recognizes that the problem of chronic pain requires a broad perspective and a significant financial investment.
###

The University of Maryland School of Nursing, founded in 1889, is one of the oldest and largest nursing schools in the nation and is ranked among the top nursing schools nationwide. Enrolling nearly 2,100 students in its baccalaureate, master's, and doctoral programs, the School develops leaders who shape the profession of nursing and impact the health care environment.