News Releases
University of Maryland School of Nursing Students Awarded AANA Foundation Scholarships
October 1, 2014
UMSON students selected from a pool of 644 applicants.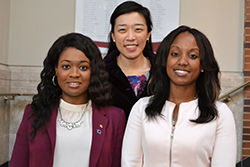 Baltimore, Md. – Three University of Maryland School of Nursing (UMSON) students have been awarded scholarships from the American Association of Nurse Anesthetists (AANA) Foundation. Alice Cho, Tushana Fowlin, and Victoria Ladele each received scholarships from the Foundation.
The Foundation awards scholarships to students currently enrolled in a nurse anesthesia program recognized and accredited by the Council on Accreditation of Nurse Anesthesia Educational Programs. Sixty of the 644 applicants were awarded scholarships totaling more than $125,750.
Cho received the AANA Diamond Club Scholarship for $2,000, which is given by past presidents of the AANA in honor of Marie Bader, a past president. Fowlin was awarded the Maryland Association of Nurse Anesthetists Scholarship for $3,000, which is awarded to a student enrolled in UMSON's Nurse Anesthesia Program. Ladele received the GALA Scholarship for $1,000, given to students attending institutions that respect and support gays and lesbians.
"We are very proud of our students for earning these scholarships. They stood out from an extremely competitive pool of applicants, which demonstrates their hard work and ability to compete," said UMSON Dean Jane M. Kirschling, PhD, RN, FAAN. "It is great to see that the AANA Foundation is dedicated to investing in students who are the future of advancing the science of anesthesia."
AANA's Foundation is a charitable organization devoted to anesthesia research, education, and development. It seeks to advance the science of anesthesia through education and research. Additionally, the Foundation serves as the philanthropic arm of AANA, and funds scholarships, doctoral fellowships, post-doctoral fellowships, research grants, general poster sessions, oral "State of the Science" poster sessions, and doctoral mentorships.
# # #
The University of Maryland School of Nursing, founded in 1889, is one of the oldest and largest nursing schools, and is ranked eleventh nationally Enrolling more than 1,700 students in its baccalaureate, master's, and doctoral programs, the School develops leaders who shape the profession of nursing and impact the health care environment.