Kathryn Lothschuetz Montgomery, PhD, RN, NEA-BC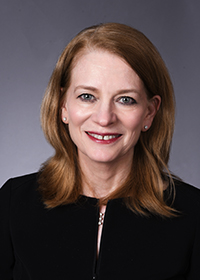 Associate Professor, PPEP
Chair, Department of Partnerships, Professional Education, & Practice
Address: 416C
Phone Number: 410-706-8198
Fax Number: 410-706-0018
kmontgomery@umaryland.edu
Education
PhD, University of Maryland, Baltimore
MSN, Catholic University of America, Washington, DC
BSN, Barry University, Miami, FL
Research
Co-Investigator, project administrator DHMH and CDC, School Health Dashboard for State of Maryland Grant (2014-2015).
Co-Investigator, DHMH and CMS, State Innovation Model planning grant, CIMH planning grant initiative (2013-2014).
Blue Cross Blue Shield/Care First, Project RN, $80,000 to advance doctoral preparation of future nurse faculty 2007-2008.
American Organization of Nurse Executives: SEED Grant: "Advancing Evidence-Based Practice for Leaders and Professional Nurses: an Education and Service Collaboration: $6000.00 April 2007 to April 2008.
Dean's Teaching Scholar: "Leadership for Professional Practice" 2006-07 $5,000 Franklin Square Hospital Center match proposed of $5,000.
U.S. Department of State Primary Medical Care Conferences, $ 400,000, 2003 – 2006. Principal Investigator, for the development of competency based programs for nurses practicing in embassies from around the world.
Helene Fuld Health Trust, Leadership Development Grant, Leadership Competence for the New Millennium, $75,036, Project Director up to award of grant, September 2001.
Publications
Quigley, L., Matsuoka, K. Samson, R. Herrera, L. Montgomery, K. Lothschuetz, Khanna, N. Nolan, T. (2014) Workforce Development in Maryland to Promote Clinical-Community Connections that Advance Payment and Delivery Reform. Journal of Health Care for the Poor and Underserved. 25 19-29.
Montgomery, K. Lothschuetz (2011) Leadership Redefined: Educating the Doctorate of Nursing Practice Nurse Leader Through Innovation. Nursing Administration Quarterly. 35, No. 3, pp. 248–251
Montgomery, K. Lothschuetz & Porter-O'Grady, T. (2010) Innovation and Learning: Creating the DNP Nurse Leader. Nurse Leader 8 (4)44-47.
Montgomery, K. Lothschuetz &Geiger-Brown, J. (2010) Is it Time to Pull the Plug on 12 Hour-Shifts? Part 2 Barriers to Change and Executive Leadership Strategies. JONA 40(4)147-149.
Montgomery, K. Lothschuetz (2010) How Nurses Make it Work. When Chicken Soup is Not Enough, Gordon, S.
Montgomery, K. Lothschuetz (2007). Partnerships, Guest Editor, University of Maryland Nursing.Spring 4-5.
Montgomery, K. Lothschuetz (2003). Special Section: Perspectives on Leadership, Guest Editorial, Policy, Politics, & Nursing Practice. 4 (4), 244-245.
Montgomery, K. Lothschuetz (2003). Review of Health Care at the Crossroads: Strategies for Addressing the Evolving Nursing Crisis, Nursing Education Perspectives, 24 (2) p. 98.
Montgomery, K. Lothschuetz (2003). Becoming a Follower: A New Competency for the Organizational Leader. Patient Care Management, 19 (2), 1-8.
Montgomery, K. Lothschuetz. (2002). Leadership: an Old Topic with a New Face, Leading a Coalition. Patient Care Management, 17 (12), 10-12.
Primary Teaching Areas
NDNP 800: Executive Leadership
NDNP 809: Complex Health Care Systems
NDNP 815: Leadership and Interprofessional Collaboration
Academic & Professional Activities
2012-Present: Co-Champion Leader, UMB Strategic Plan Implementation Theme "Pre Eminence as an Innovator"
2011-2015: Commissioner Maryland Health Care Commission, Governor's Appointment, State Senate Confirmation to the MHCC
Board of Visitors Member, College of Southern Maryland
Quality Initiative Committee Member, State of Maryland Health Services Cost Review Commission
Academic Program Advisory Committee Member, Universities of Shady Grove
Montgomery County Health Workforce Development Committee