Gina C. Rowe, PhD, DNP, MPH, FNP-BC, PHCNS-BC, CNE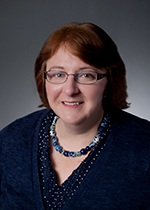 Assistant Professor, USG
Building I, Room 306 at USG
301-738-6375
growe@umaryland.edu
Education
PhD, University of Maryland School of Nursing, Baltimore, MD 2013
DNP, University of Maryland School of Nursing, Baltimore, MD 2010
Certificate in Public Health Informatics, University of Maryland, College Park, MD, 2010
Family Nurse Practitioner Certificate, University of Maryland School of Nursing, Baltimore, MD 2007
MSN and MPH, Johns Hopkins University Schools of Nursing and Public Health, Baltimore, MD, 2002
BSN, Johns Hopkins University School of Nursing, Baltimore, MD, 1999
BA, International Studies, University of Nebraska at Omaha, Omaha, NE, 1988
BA, General Science, University of Nebraska at Omaha, Omaha, NE, 1988
Research
Project Director, Advanced Nursing Education Grant (DNP),Health Resources and Services Administration, South Dakota State University, 2012-2014.
Pediatric Obesity Prevention in the Family/School/Community Context: A Pilot Project, South Dakota State University Scholarly Excellence Award, 2012-2013.
FNP Health Assessment & Health Promotion in Primary Care, University of Maryland Dean's Teaching Scholars Award, 2011-2012.
Geographic Information Systems to Support Quality Improvement in Health, University of Maryland School of Nursing Alumni grant, 2009.
Publications
Burdette, L., Rowe, G.C., Johansen, L., Nagelhout, E., Lewis, K., Kerkvliet, J. and Fahrenwald, N. (2014). A statewide assessment of smoke-free policy in multiunit housing settings. Nicotine & Tobacco Research, published online July 23, 2014.
Rowe, G.C. Epidemiology, chapter 7 in Maurer, F. A. and Smith, C. M. (2013). Community/Public Health Nursing Practice – Health for Families and Populations, 5th Edition. Elsevier: St. Louis.
Randall, B., Burdette, L., Rowe, G.C., Kerkvliet, J. and Fahrenwald, N. (2013). Listen to the people: Perceptions of the South Dakota Comprehensive Cancer Control Plan. Report submitted to the SD Department of Health July 22, 2013.
Primary Teaching Areas
NURS 631: Health Promotion and Disease Prevention Practicum
NURS 660: Health Assessment
NURS 640: FP III - Management of Complex Health Care Problems
NURS 644: FP III - Management of Complex Health Care Problems Practicum
NURS 731: FP IV Integrative Management of Primary Health Care Problems
NURS 741: FP IV Integrative Management of Primary Health Care Problems Practicum
Academic & Professional Activities
Family Nurse Practitioner, Morris Blum, Anne Arundel Medical Center Community Outreach Clinic, Annapolis, MD
Member, Geographic Information Systems Users Group, University of Maryland Baltimore
Member, Maryland Nurses Association and American Nurses Association
Member, American Public Health Association
Member, American Association of Nurse Practitioners