Nursing Pin History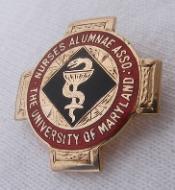 When Bellevue Hospital in New York started a nurses' training school in 1873, a board member suggested "a badge for the probationers and the same with a medal attached for the head nurses." Out of this idea came the concept of a nursing school pin. Bellevue presented its first pins—the first nursing school pins-in 1880.
The University of Maryland School of Nursing opened in 1889 and the tradition of a class pin began in 1894, when students selected a design by Tiffany's of New York. None of these original pins survive, but the official School of Nursing pin is a modified version of the original design.
The design features the St. George's cross in gold. In the center of the cross is a variant of the bowl of Hygeia, the serpent representing wisdom, entwined around a glass that is symbolic of the "wise presiding over decoctions of medicine." Though commonly a symbol used by pharmacists, the variant on the pin is the snake design found on the wand of Asclepius, a symbol used by the nursing profession. The bowl of Hygeia is set on a field of black surrounded by gold with a maroon circle around it containing the words, "University of Maryland School of Nursing."
While subsequent classes had different class pins designed, when the School of Nursing Alumni Association (founded in 1897) decided on a pin to represent the Alumni Association, they chose that original 1894 design as the model. Until 1970, the pin was only allowed to be worn by paid members of the Alumni Association. Graduates paid dues to be included in the organization, and only then were they permitted to wear the pin. Only one jeweler in Baltimore was allowed to make the pins, and purchasers had to show proof of Alumni Association membership to purchaseone. This pin looked the same as today's UMSON pin, but with the words "University of Maryland Alumnae Association." Inscribed on it. Many members of the Alumni Association had their initials or name, as well as class year, engraved on the back of their pin, and it was a cherished part of every alumni member's uniform.
In 1970, the Alumni Association offered the design of the alumni pin to the dean of the School of Nursing to become the official nursing pin. It is now awarded to all graduates of the University of Maryland School of Nursing.