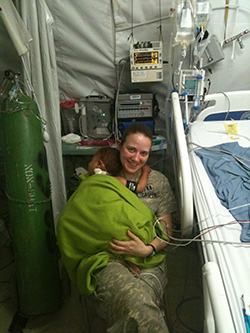 Name: Katie Casper, BSN, RN
Branch: Army
When Katie Casper, BSN, RN, was a child, her mother, a clinical nurse specialist in pediatric oncology, was working in hospice care. "I always loved going along with her as a kid and making friends with her patients," Casper says.
A Doctor of Nursing Practice student at UMSON, Casper attended Marquette University in Wisconsin on an Army Reserve Officers' Training Corps (ROTC) scholarship. "Combining ROTC with my nursing program was like jumping off a cliff — it was such a demanding schedule but I adjusted and thrived," she recalls. After graduating, she was commissioned into the Army Nurse Corps, and in her almost 10 years of active duty as an ICU nurse, she was deployed twice to Afghanistan, in 2009 and 2011.
"We were in tents with a small team, a few beds for surgery, and a few for our ICU," she recalls. "We treated soldiers and local nationals, including adults and children who had been injured in improvised explosive device explosions. I think because I was a relatively new nurse, I didn't have many expectations and was able to adapt to the environment, which was a sort of organized chaos."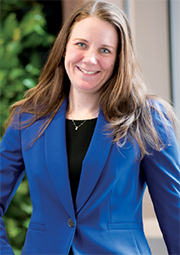 After completing her service commitment with the rank of captain, Casper decided it was time to take a new path and change her area of specialization. "The children I cared for in Afghanistan were resilient and inspiring, and I'm excited to work in a pediatric ICU after graduation," she says. She's scheduled to complete the Pediatric Acute Care Nurse Practitioner specialty in May.
"Being back in school is a bit of an adjustment, because I was so accustomed to having the support and commonality of the military mindset," Casper continues. "But I've met good friends — and in both the military and nursing, you find many people who are dedicated to always learning, getting better, and wanting more."
Top photo: Casper and a patient during her time in Afghanistan.
Bottom photo: A recent photograph of Casper taken at UMSON.