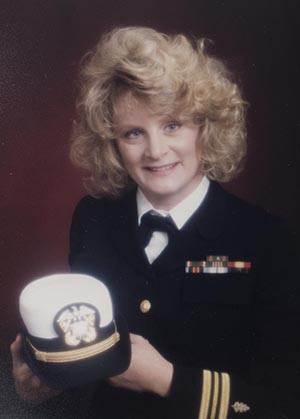 Name: Judy Harris, MSN, BSN '80, RN
Branch: Navy
"Nursing and the military have opened many doors for me," says Judy Harris, MSN, BSN '80, RN, director of Student Health Centers at Palomar College in San Marcos, California. Harris recalls that even as a teenager, when she worked as a unit clerk in a Glen Burnie, Maryland, hospital through a high school health occupation program, she never wanted to miss an opportunity for growth.
"I wanted to make a contribution in the world and I never wanted to sell myself short," she explains. After completing her BSN at UMSON, she served for eight years in the Navy Nurse Corps as a lieutenant; her postings included Long Beach and San Diego, California, and Okinawa, Japan. She then joined the Navy Nurse Corps reserves, retiring after 15 years at the rank of commander. Next, Harris was the Emergency Medical Technician program director and director of Student Health Services programs at San Diego Miramar College. In addition, she earned a master's degree in critical care nursing from San Diego State University and a post-master's family nurse practitioner certification from the University of San Diego.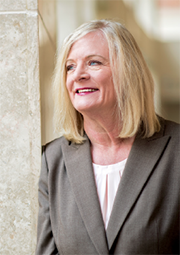 Ready for a new challenge, Harris joined the U.S. Department of State as a foreign service health practitioner in 2003. "One of my goals was to put my foot on every continent, which I am happy to say that I achieved," she recalls of her nursing career in the diplomatic corps, serving in Nigeria, Iraq, Nicaragua, Gabon, and Mozambique. "Transcultural nursing can be challenging; you need to listen to people and establish trust, because they may be unfamiliar with practices of Western medicine.
"My ER nursing background gave me self-confidence and critical decision-making skills," she continues. "I was able to educate, refine my leadership skills, manage human resources and personnel issues, and pivot from treating high-profile diplomats and American citizens residing in foreign countries to local embassy workers. For those who desire unlimited opportunities for challenging work, the career opportunities in nursing are infinite."
Top Photo: an official military photo of Harris
Bottom photo: A recent photograph of Harris taken at UMSON.