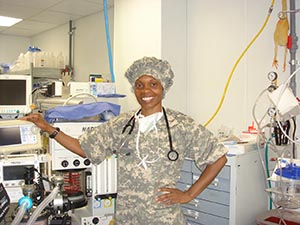 Name: Col. Jacqueline C. Mitchell, MS '07, CRNA
Branch: Army
UMSON faculty member and Army reservist Col. Jacqueline C. Mitchell, MS '07, CRNA, director of clinical education, moved to the United States from Grenada when she was 10 years old. At the time, she had never seen a television program, but she was quickly drawn to one particular character.
"I loved Major Margaret Houlihan on M*A*S*H," she recalls. "She was a woman with so much strength in her character. I wanted to do what she did." After earning her Bachelor of Science in Nursing (BSN) from the City College of New York, Mitchell joined the Army, serving as an operating room nurse at USA MEDDAC in Fort Belvoir, Virginia. In four-plus years of active duty and 22 in the Army Reserve, she has completed two tours in Afghanistan and one in Kuwait, as well as serving in humanitarian missions to Honduras, the Dominican Republic, and South Africa.
"So many aspects of the military — and of nursing — suit my nature," she says. "I'm a nurturer. I like structure and clear expectations and seeing the rewards of hard work."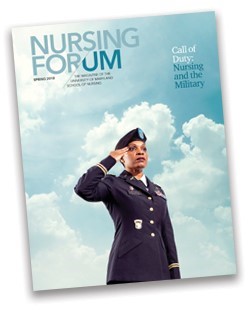 These traits also serve her well in her position at UMSON, where she oversees students in 19 clinical rotation sites, works with them in simulations and workshops, and lectures in nurse anesthesia classes. "For me, teaching is giving back," she says. "I am passionate about helping students achieve their full potential. I tell them, just come to me and whatever the issue is, we will get through it."
Mitchell also has a master's degree in exercise fitness and health promotion and is working on a PhD; her goal is to develop programs to address the disproportionate obesity rate among African-American women. "Staying fit is the foundation of being a soldier," she explains. "I'm exploring how to use the model of a supportive team, vital in both nursing and military service, to help others and promote health."
Top photo: Mitchell during deployment at Forward Operating Base Salerno, Afghanistan, in 2008.
Bottom photo: Mitchell was on the cover of the spring 2018 issue of Nursing For/um, the University of Maryland School of Nursing's magazine that goes to alumni and friends of the university.